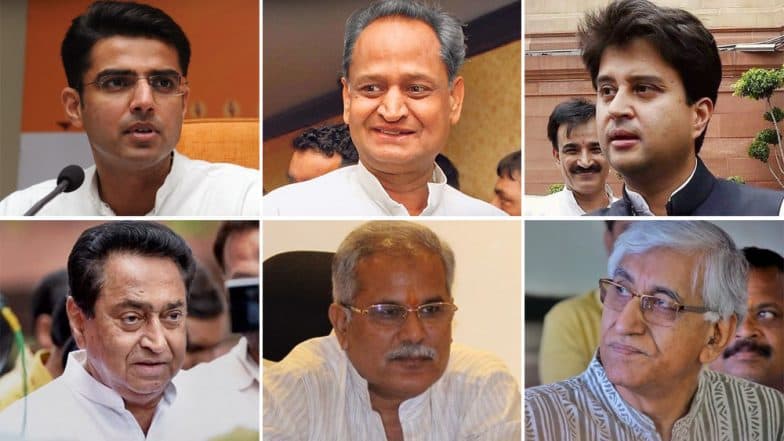 New Delhi, December 13: The decision on the Chief Ministers of Rajasthan, Chhattisgarh and Madhya Pradesh is likely to be taken today. Congress President Rahul Gandhi is holding several rounds of meetings with the Chief Ministerial probables of all three states and take a decision by Thursday evening. Congress leaders, as well as observers from all three states, have travelled to Delhi to reach a conclusion on the CMs. Gandhi had sought feedback from Congress workers of these states on the Shakti mobile app. The Congress won Assembly Elections 2018 in Chhattisgarh, Rajasthan and Madhya Pradesh even as the party lost Mizoram to Mizo National Front (MNF).
In Madhya Pradesh, the top CM contenders are Congress young scion Jyotiraditya Scindia and veteran Kamal Nath. While most reports suggest that Kamal Nath is set to be made the Chief Minister of MP, several Congress MLAs in the state have also vouched for Scindia and, hence, the final decision has been left on Gandhi. Both Scindia and Kamal Nath have been called to Delhi for a meeting with Gandhi to reach a decision today.
In Rajasthan, it is a contest between Rajasthan Congress chief Sachin Pilot and veteran leader and two-time CM Ashok Gehlot. As per reports, a majority of Congress MLAs, 10 Independent MLAs and one BSP MLA have supported Pilot as CM. However, the final decision has again been left on Gandhi. Pilot and Gehlot, both met Rahul Gandhi separately at his residence today and an announcement is expected soon.
Who do you want to see as next Rajasthan Chief Minister?
In Chhattisgarh, while State Congress unit President Bhupesh Baghel and TS Sighdeo are being seen as the top CM contenders, Tamradhwaj Sahoo and Charandas Mahant are also believed to be in the race. Rahul Gandhi is set to decide as to who takes the CM's throne in the state where the Congress registered a landslide victory, winning 68 seats.