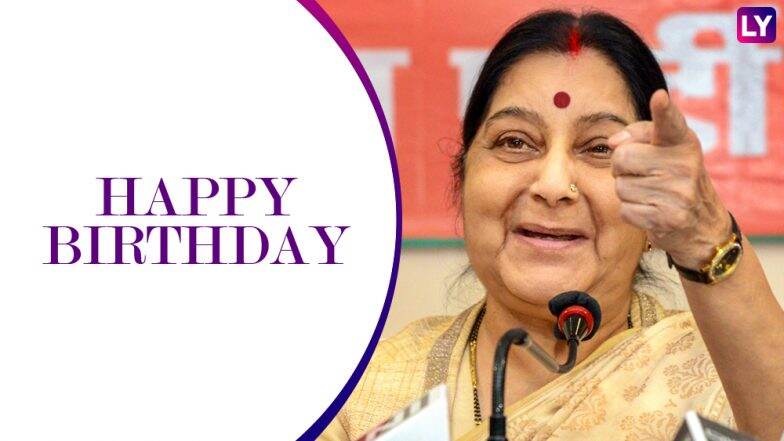 New Delhi, February 14: Sushma Swaraj, India's external affairs minister under the NDA government and senior BJP leader is celebrating her 67th birthday today. Swaraj is amongst the most popular leaders from the Bharatiya Janata Party (BJP) and is counted among the best known woman politicians in India. The minister has always invented herself as per her changing role in the party and the government and her current stint as the external affairs minister has endeared her to the masses as she is approachable and has also displayed a great sense of humour, two qualities that are rare in Indian politicians. Hamid Ansari Meets Sushma Swaraj Day After His Repatriation to India From Pakistan Jail.
Sushma Swaraj has had a long and successful career in politics. She has quite a number of achievements to her name. Sushma Swaraj was born on February 14, 1952 in Ambala Cantt to Hardev Sharma and Shrimati Laxmi Devi. She did her schooling from Sanatan Dharma College, Ambala Cantonment and went on to earn a Bachelor's degree with Sanskrit and Political Science as major subjects.  She also studied law at Punjab University, Chandigarh. Sushma Swaraj Hails Kartarpur Corridor Event, but Says No Bilateral Talks With Pakistan Until Terrorism Is Curbed; Watch Video.
She was an active NCC student at SD College Ambala Cantt and was even awarded as the Best Cadet, NCC for three consecutive years. Her oratory also won her accolades right from the early days. She won the best Hindi Speaker award at state-level competitions organised by prominent language departments. Sushma Swaraj's name before marriage was Sushma Sharma. She married Swaraj Kaushal, an advocate at High Court and took her husband's first name as her surname. Pravasi Bharatiya Divas 2019: Sushma Swaraj Inaugurates Event, Emphasises on Shared Identity and Shared Commonness.
Sushma has quite a number of firsts to her name. In 1977, Swaraj created history becoming youngest cabinet minister of Haryana at the age of 25 years.
She is also the first female spokesperson of a national political party in India. Sushma Swaraj has the distinction of becoming the first woman Chief Minister of Delhi. She received the Outstanding Parliamentarian Award in 2004 and became the first woman to win this prestigious award.