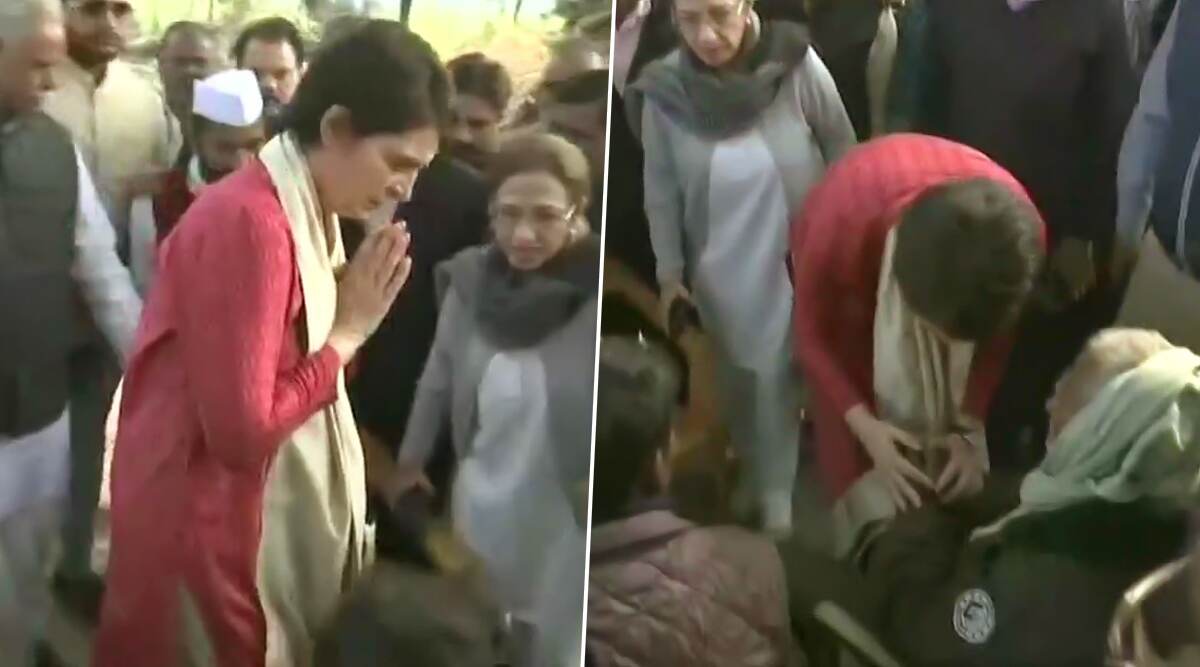 Lucknow, December 7: Congress General Secretary Priyanka Gandhi on Saturday visited Uttar Pradesh's Unnao town where she met the family of a rape victim who died earlier in the day. The 23-year-old woman was set ablaze, allegedly by the same accused who had raped her earlier. She suffered 90 per cent burn injuries and was airlifted to Delhi for treatment. She breathed her last at the Safdarjung hospital on Friday night. Unnao Rape Survivor Death: Uttar Pradesh CM Yogi Adityanath Expresses Grief, Orders Fast Track Trial.
Priyanka Gandhi met the deceased's parents at their residence in Unnao. "Victim's whole family has been constantly harassed since last year. I have heard that the culprits have some BJP connection. That is why they were being shielded. There is no fear among criminals in the state," she told reporters. Before leaving for the victim's house, the Congress leader slammed the Yogi Adityanath government over law and order situation and asked why no protection was provided to the victim.
"Keeping in mind the previous incident of Unnao, why did the government not give immediate protection to the victim? What action was taken against the officer who refused to register her FIR?" she tweeted. "It is a failure of all of us that we could not give her justice. Socially, we are all guilty, but it also shows the law and order situation in Uttar Pradesh," Priyanka Gandhi added. "I pray to God to give courage to the Unnao victim's family in this hour of grief," she said in another tweet.
The death of the Unnao rape victim has stirred up politics in Uttar Pradesh with former Chief Minister and Samajwadi Party chief Akhilesh Yadav sitting on a 'dharna' outside the Vidhan Sabha. Akhilesh Yadav, sat on a protest along with senior party leaders to protest against the police inaction in the case, demanded CM Yogi Adityanath's resignation. Meanwhile, the victim's father demanded a Hyderabad-like "encounter" for the perpetrators. "I have only one demand... my daughter should get justice," he told news agency IANS.
He demanded a Hyderabad-like "encounter", or death penalty for the accused. Hyderabad Encounter Reminiscent of 2008 Warangal Shootout, Both Happened Under Top Cop VC Sajjanar's Watch. All four accused in the Hyderabad rape and murder case were gunned down by Telangana police personnel in an encounter in the early hours of Friday. Celebrations erupted over the encounter with some people calling it "instant justice".