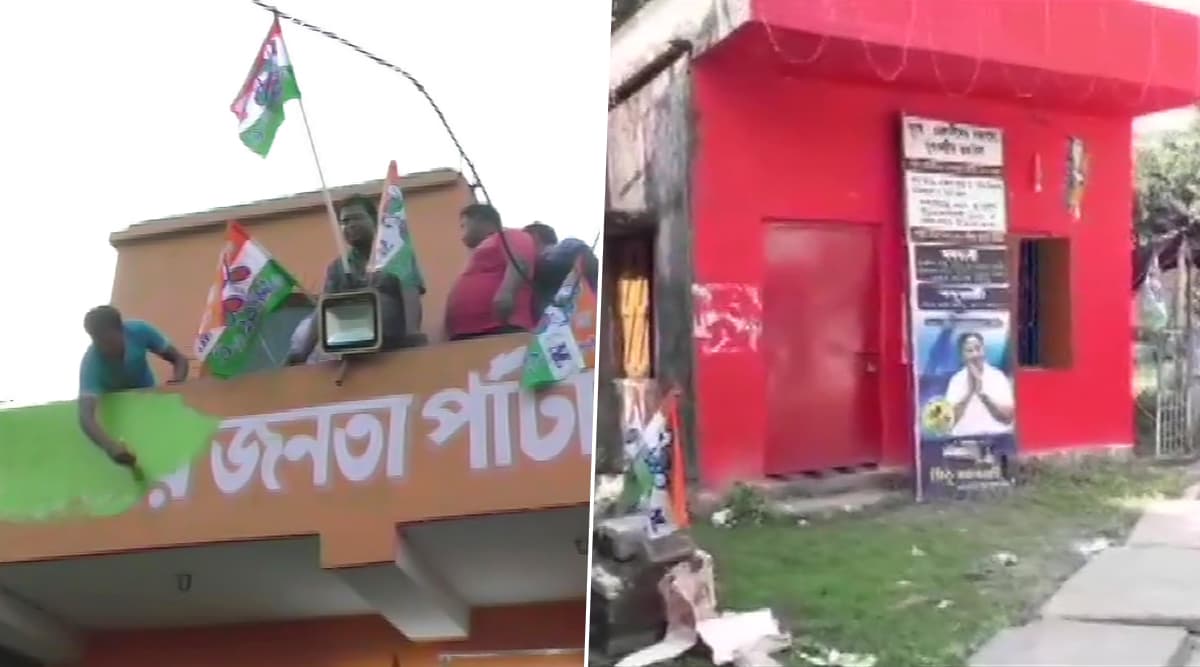 Kolkata, November 29: Trinamool Congress (TMC) workers in West Bengal allegedly captured and painted Bharatiya Janata Party (BJP) offices in Panpur, Naihati, Madral and Barrackpore of North 24 Parganas after TMC clean sweapt the assembly by-elections in Kaliaganj, Kharagpur Sadar and Karimganj. The celebrations by the TMC workers went overboard as they reached the BJP offices in large numbers and raised slogans. The workers also allegedly went up the roof of these offices with TMC flags and hoisted them atop the BJP offices. West Bengal Bypoll Results 2019: TMC Sweeps By-Elections in Karimpur, Kaliaganj, Kharagpur Sadar; BJP Stunned For Its Arrogance, Says Mamata Banerjee.
BJP National General Secretary Kailash Vijayvargiya said after TMC's victory in the assembly by-elections that the Trinamool Congress rigged the polling booths. National Secretary and Bengal BJP leader Rahul Sinha said that the state machinery openly helped the ruling Trinamool Congress and that they will report this to the Election Commission.
Sinha told IANS, "Though the Election Commission monitors all the elections but the execution of bypolls is being done by the state. TMC can do anything to win the elections." He even raised doubts about the EVMs. He said, "Anything can be done with the EVMs. You can't deny foul play of the ruling party in the counting."
See the Pictures in the Tweet Below
West Bengal: 4 BJP offices in Panpur, Naihati, Madral and Barrackpore of North 24 Parganas district were painted yesterday allegedly by TMC workers who also hoisted their party flags there, after the declaration of results for the state by-election where TMC has won all 3 seats. pic.twitter.com/DH81CklKS7

— ANI (@ANI) November 29, 2019
In encouraging development for the Mamata Banerjee led Trinamool Congress (TMC), the party registered victory on all the three seats- Kaliaganj, Kharagpur Sadar and Karimganj, that went to polls in West Bengal on November 25. TMC candidate from Kaliaganj, Tapan Deb Singha, won by over 2,000 votes. TMC candidate from Karimpur, Bimalendu Sinha Roy, won by a huge margin of over 20,000 votes. From the Kharagpur Sadar seat, TMC candidate Pradip Sarkar won comprehensively by over 20,000 votes as well.