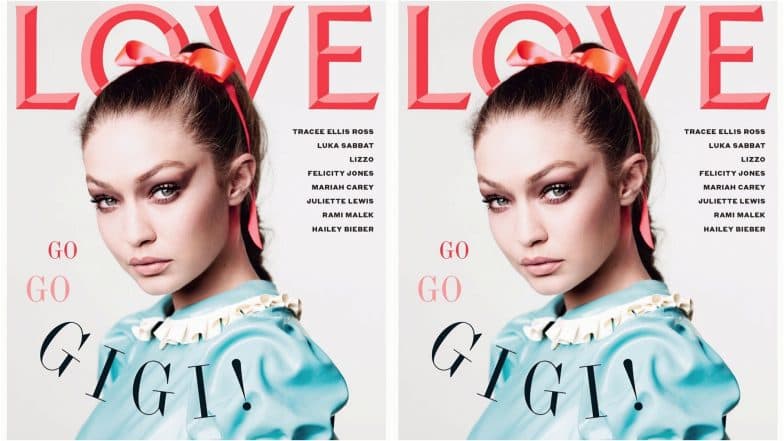 Gigi Hadid one of the nine faces of the LOVE22 magazine covers by Love magazine. She's featured along with celebrities like Lizzo, Hailey Bieber, Juliette Lewis, Tracee Ellis Ross, Mariah Carey, Rami Malek, Felicity Jones and Luka Sabbat. Gigi looks like a fierce Barbie doll in her cover. With dark, grunge makeup and puffed sleeved blue dress, Gigi looks like Barbie doll gone bad. The cute ribbon in her hair makes us wonder what to think of the look. Gigi and Bella Hadid Flaunt Curves and Cleavage in Skimpy Bikinis on Their Summer Vacay to Mykonos (View Hot Pics).
Gigi Hadid was dressed by Nange Magro. Her makeup was done by the one and only, Pat McGrath. Her makeup and outfit are contrasting in nature. The Grady dress looks cute at first glance but it's only when you see the video that you see where it comes from. What seems to look like a regular blue, latex dress is an inspired imitation of the Grady twins' dresses from The Shining.  Gigi Hadid Looks Like a Present With a Massive Bow on Her Dress for the Valentino Haute Couture Show.
Gigi Hadid for Love Magazine Cover
View this post on Instagram
Gigi Hadid's Bunny Video for the Magazine Campaign
View this post on Instagram
Her hair is tied in a high ponytail, adding onto that childlike look. The ribbon around her hair looks rather weird. The bunny hop kinda makes us wonder what was the objective of the video and the shoot. Although she looks gorgeous and fierce in the first look of the cover, the videos for the campaign are a tad bit eerie. The photo for the cover is stunning but the rest doesn't look like Gigi's style. Nonetheless, she manages to phenomenal if we just talk about looks.