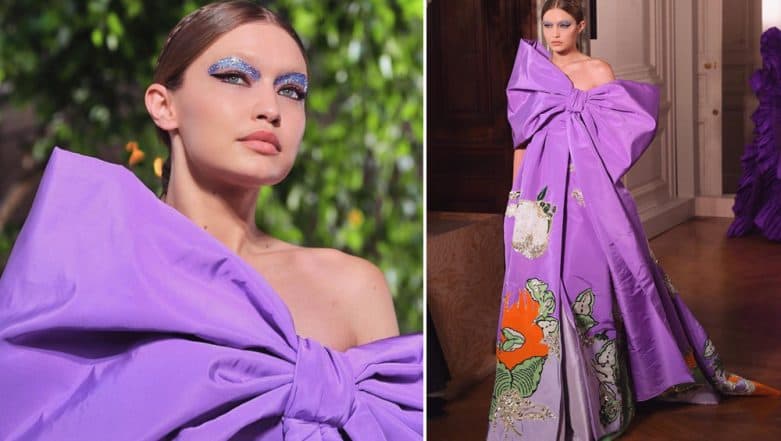 Gigi Hadid looked like a gift for her fans with a massive bow on her chest as she walked the runway for Valentino Haute couture show. Gigi wore a purple gown with a massive bow on her chest and matching purple-lilac glitter eyeshadow. The eyeshadow looked like a streak of glitter, more like a thick glitter eyeliner. Gigi fans must be really happy right now as she came out with her Vogue Italia cover not too long ago, and now she has new pictures of the Valentino show. Gigi Hadid Debuts Red Hair on the Cover of Vogue Italia (View Pic).
Fans of Gigi are loving her look for Valentino Haute Couture show. Gigi was wearing a huge purple gown. Her gown had sea prints on the bottom part, giving us a little bit of mermaid vibes from Gigi, as she is beautiful as mermaids in stories. Her dress has prints of seashells, and seaweed. Her hair is drawn back in a slick ponytail with a middle parting. This makes her look very similar to sister Bella, who is always seen with a tight bun or ponytail. She has a thin braid of her hair wrapped around the crown, acting as a hairband and adding some texture to her boring hairdo. The star of the show was the massive bow on the chest. Jacqueline Fernandez Keeps It Classy on Harper's Bazaar July India 2019 Cover (View Pics).
Gigi Hadid for Valentino
There were many other famous models on the show such as Kaia Gerber. The show also made history with a 75-year-old model walking down the runway for the event. The dresses were very impressive as they were Haute Couture. If you're unaware of Haute Couture, the outfits are hand sewn and every bit is made by hands. How impressive is that!