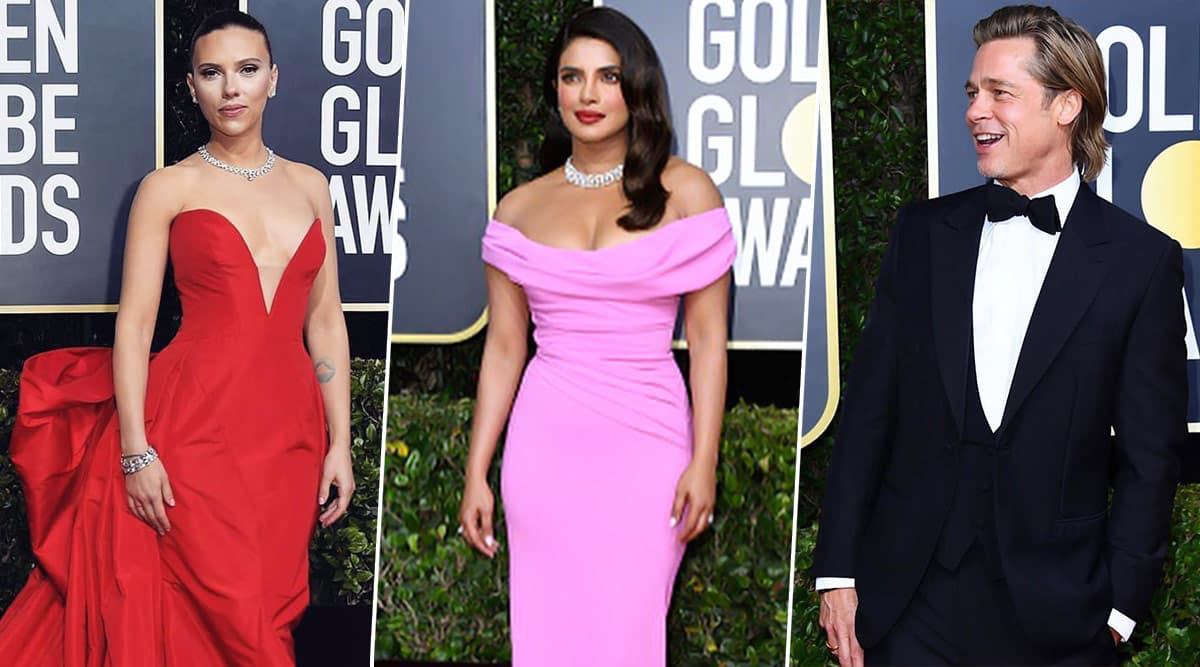 The first big award ceremony is here in the form of Golden Globes 2020. It was one of the much-awaited ceremonies of the new decade and everyone looked so cheerful to start the year with glamour and appreciation. When it comes to such starry ceremonies, red carpet appearances invariably become a part of the discussion. The celebs take the best of their efforts to deck up for the big show, making new style statements. This time too celebs like Scarlett Johansson, Priyanka Chopra, Brad Pitt, Jennifer Aniston and more managed to mark an impression. Here are some of the best dressed personalities. Golden Globes 2020: Ricky Gervais Roasts Leonardo DiCaprio, Joe Pesci Among Others And People Are Going Nuts.
PeeCee never fails to create the magic and Golden Globes 2020 was no different. She chose the basic pink to strut over the red carpet but don't miss that diamond necklace! Scarlett aka Black Widow was a sight to behold in a hot red number and a classy hairstyle. Brad Pitt was the 'usual handsome Brad Pitt' being the constant in the 'best dressed' category at any given point. Check out other celebs who made it to this list.
Oh My! Brad Pitt
View this post on Instagram
Who's The Hottest Girl In The World? Priyanka Chopra
View this post on Instagram
Red Hot! Scarlett Johansson
View this post on Instagram
Our Heart Will Go On and On...For Leonardo DiCaprio
View this post on Instagram
Forever Beautiful! Jennifer Aniston
View this post on Instagram
'Hot Priest' For Ya'll! Andrew Scott
View this post on Instagram
Meanwhile, Twitterati is abuzz with the happenings inside the ceremony. While the talk about the fashion statements is on top, they are also raving about the speeches and the conversations inside. From Brian Cox and Kieran Culkin's lip lock to Ricky Gervais roasting Leonardo DiCaprio, this gala is sure more than just award-giving ceremony! Focusing back on the fashion statements made, whose did impress you the most?