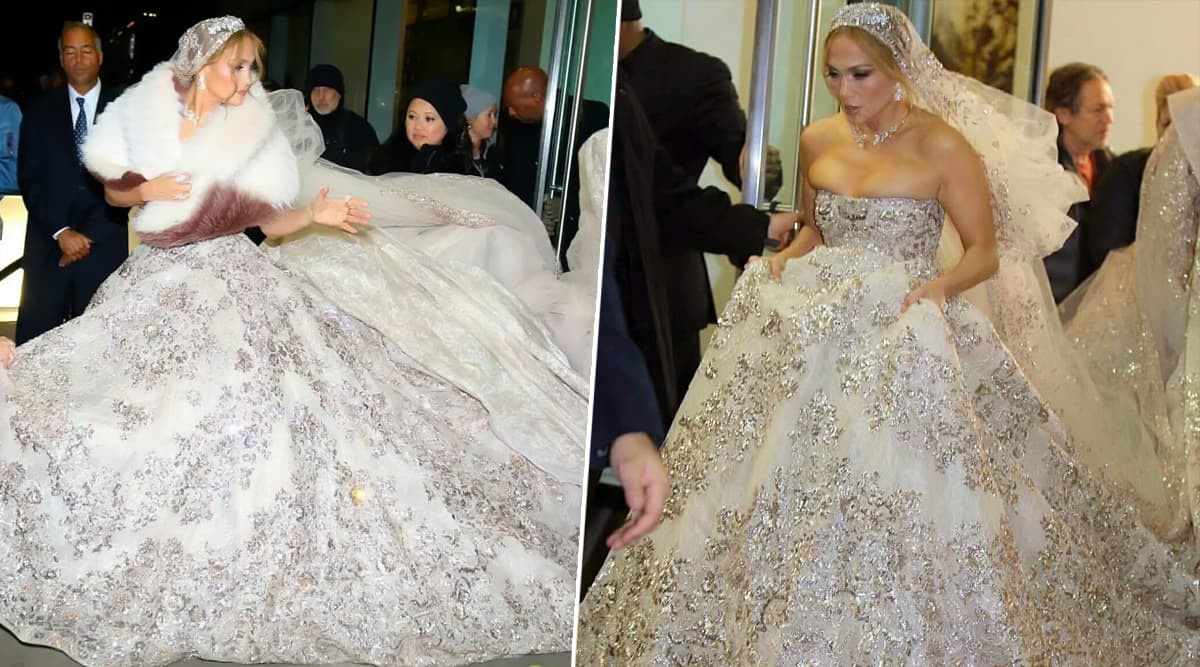 Jennifer Lopez is not married yet but she did display an over-the-top wedding dress. The singer and actress was spotted outside Atelier Condo building in New York looking all dressed up and wedding-ready. The dress is something we've never seen before. She wore this for her appearance in the upcoming film Marry Me. But now that the dress is out in the public, we wonder if this is what she's planned for her wedding or if the wedding dress will somehow manage to top this. Jennifer Lopez Flaunts Her Toned Body in Swimsuit as She Chills on Her Yacht.
Jennifer Lopez was spotted shooting in New York for her appearance in the new film Marry Me. The dress made people gasp with the bedazzling look. The dress is covered with gems and studs and it's something we've never seen before. Of course, we don't expect anything boring from J.Lo. The gown has tonnes of embroidery all over the net on it. It hugs her waist perfectly and the fall looks way too heavy for anyone else to handle it other than Jennifer Lopez. Jennifer Lopez Birthday Special: 10 of the Most Outrageously Sexy Attires She Has Ever Donned - View Pics.
Jennifer Lopez in the Wedding Dress
View this post on Instagram
The initial images of the dress shocked the fans as they assumed the singer got married in a secret ceremony or something of that sorts. Jennifer Lopez also added a furr coat to the dress. The veil of the dress is also covered with embroidery and at one point it gets too much. Even her jewellery follows the same pattern as her dress and looks absolutely stunning. The entire ensemble makes fans wonder what her real wedding dress would look like. Even though this is tough to beat, we can count on J.Lo to bring in the glam!