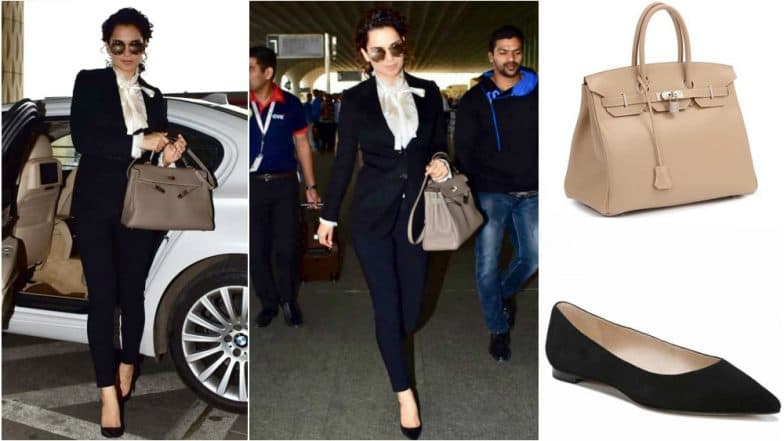 Alright, alright, I take my words back. Earlier in the day, I spoke about wanting to steal Sunny Leone's 'Marvel Comics' graphic print jumpsuit worth Rs 1400. Plan cancelled, I will not steal but shell out my money to buy that cool jumpsuit. If you're wondering what caused such a sudden change of heart, the answer is Kangana Ranaut's 'power and poise' airport look. From head to toe, the 31-year-old is decked up in high-end fashion brands from Dolce & Gabbana to Stella McCartney, and Burberry to Hermès! Kangana Ranaut's Style File for Manikarnika Promotions Resonated With Her On-Screen Character - View Pics.
Who better than Kangana to teach on how to dress like a boss lady? It's inherent. The Manikarnika: The Queen of Jhansi was spotted at Mumbai airport looking like a million bucks. Flying off to Germany purportedly on a work trip, Kangana stepped out in style. She wore a satin shirt with bow tie knot on top from Dolce & Gabbana. Instead of opting for a pantsuit, she wore a dark blue Cashmere coat also from D&G and matching pants from Stella McCartney. That was not the end of brand power. Kangana Ranaut's Latest Airport Look in Saree and Pigtail Braids Will Transport You Back in Time (See Pics).
See Kangana Ranaut's Latest Airport Look
Continuing her love affair with flaunting big brand names, Kangana carried a nude Hermés Birkin bag and a pair of pointy black flats from Burberry. She also wore a pair of sunglasses, whose details surprisingly are not mentioned by the official Instagram page of Team Kangana Ranaut. We are sure it would be another biggie.
See More Pics of Kangana Ranaut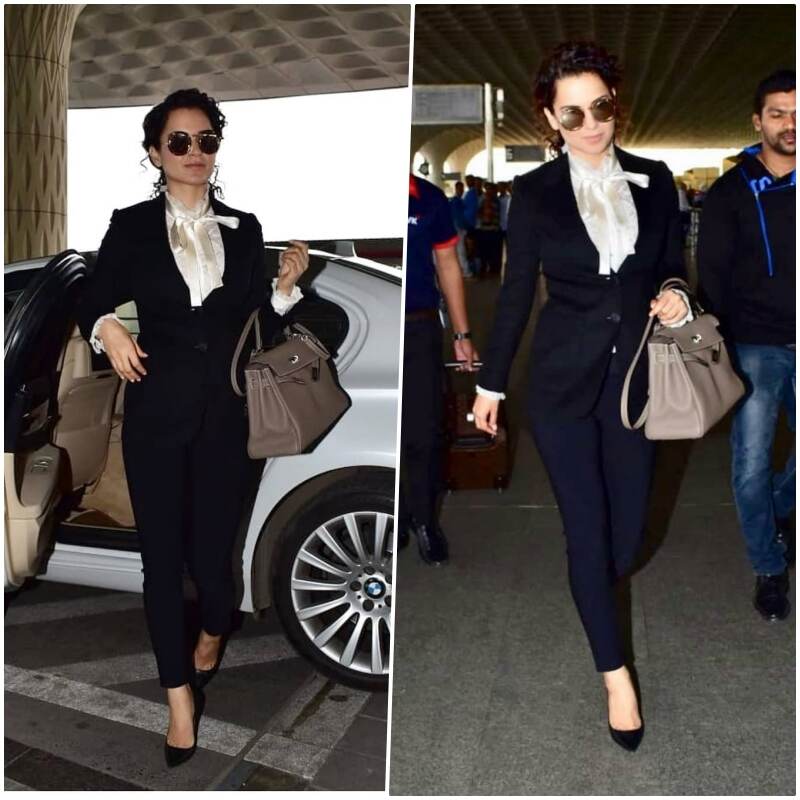 We love how Kangana is going all out when it comes to fashion and her films. She is not only nailing at the fashion front but also letting her acting chops speak for itself in movies. Her latest release, Manikarnika: The Queen of Jhansi released on January 25 and is doing a mind-blowing business at the box office. The film also marks her debut as a director (in credits), and reviewers have loved Kangana's fierce show as Jhansi Ki Rani, Laxmi Bai.