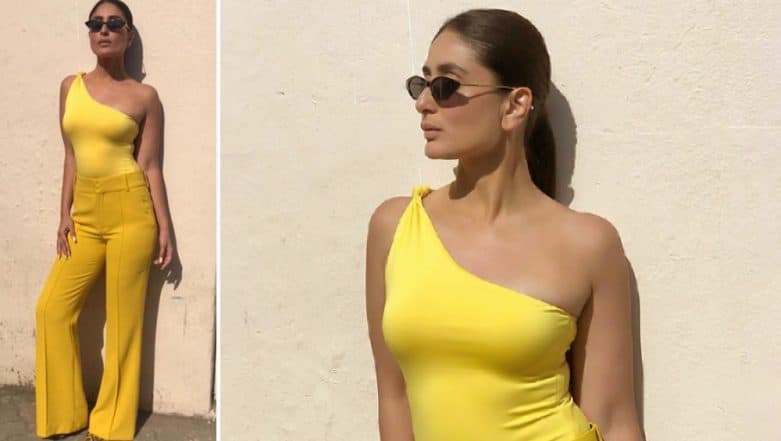 How does she do it? No, nah... let us use her own 'bebolicious' lingo . How does she dare to look so go gorgeous? Who has given her the right to do so? How does any man not dare to turn around and check her out?
Okay, let us give the pooh in us the much needed break and get back to the serious business now! Fashion and its rightful analysis, that is! Kareena Kapoor Khan looks gorgeous as she declares the summers are here and they are only going to be scorching with her sunshine dress! She sparkles, and more so, thanks to the super shape that she has acquired post delivery!
The top with its off shoulder glory and snugness is too cool to ignore. And the bottoms are equally striking! Only Kareena can choose to keep the whole look monochromatic to deliver the end result as amazing as that!  She got an instant WOW from us! De De Pyaar De: Ajay Devgn's Comment on the Age-Gap Between Saif Ali Khan and Kareena Kapoor Khan Gets a Thumbs Up from the Latter
The best part about this look of Bebo is that she resists the temptation of synchronizing any accessory with it. The eye-wear is a must here which in facts gives that much desired edginess to the whole 'summer-is-here' drama.
View this post on Instagram
The hair, the posture, the high cheekbones and the footwear...gosh she keeps everything in alignment only make us go green with envy! Dare you have a counter opinion to what we have stated here! We know you just can't afford to do that!