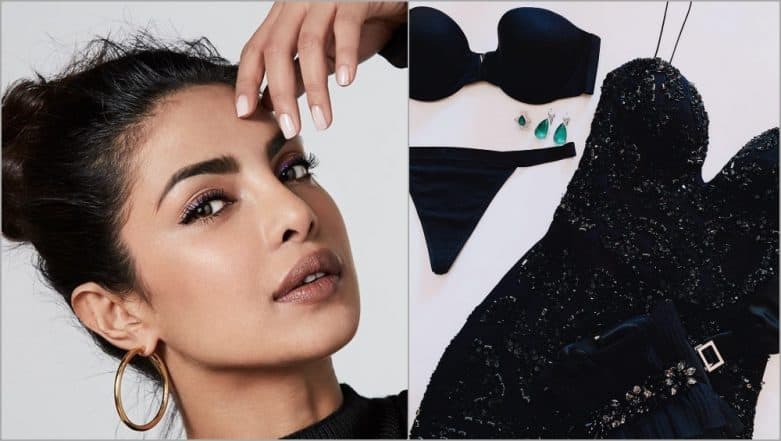 And it looks like the suspense regarding Priyanka Chopra Jonas' Oscars 2019 outfit is over. Or, is it really? Celebrity stylist Mimi Cuttrell who works closely with the Indian actress has sent Priyanka's fans into a tizzy ahead of 91st Academy Awards. Mimi shared a picture on her Instagram handle, most likely an Oscars dress for one of her celebrity clients. But fans seem convinced that the OOTD is for their favourite, Priyanka Chopra! But what is this Oscars 2019 look all about? Oscars 2019: Let's Go Back in Time to Witness Our Desi Girl aka Priyanka Chopra's Wardrobe for the Academy Awards.
Mimi posted a photograph that shows a sequined black noodle-strap bodice gown. Along with it, there's a pair of strapless bra and undies, also in black. A pair of emerald earrings and an emerald ring is also placed nearby. The famous stylist captioned this image as: "A little sneak peak inside my Oscars day with my favorite essentials.. underwear and diamonds! ;) @victoriassecret @chopard #victoriassecret [sic]." So, you know now those are Victoria Secret underwear and Chopard jewellery as Mimi discloses her favourite staples. But are they for Priyanka? Academy Awards Red Carpet Fails: Check Out The Worst Dresses of All Time At The Oscars Worn By Gwyneth Paltrow, Cher, Lady Gaga!
As of now, we can tell you fans are having a hard time containing their excitement. There are so many comments below Mimi's post, requesting her to disclose if this is PC's dress for the event. It looks like fans really want to see Priyanka Chopra in a black dress. An user writes, "I am dying to see her in black 😭 please tell us its Priyanka," while another one commented, "IS THIS FOR PC???? If it is I'm gonna die lol. Plz give us a clue if she's going today at all? 🙏💕."
Priyanka Chopra's Stylist Mimi Cuttrell's Post
And then there are few who are commenting this look is designed for Mimi's another client, American television personality Kristin Cavallari. Now, that's one mystery fans will have to wait till the Desi Girl walks the Oscars 2019 red carpet.
Previous Red Carpet Appearances of Priyanka at Oscars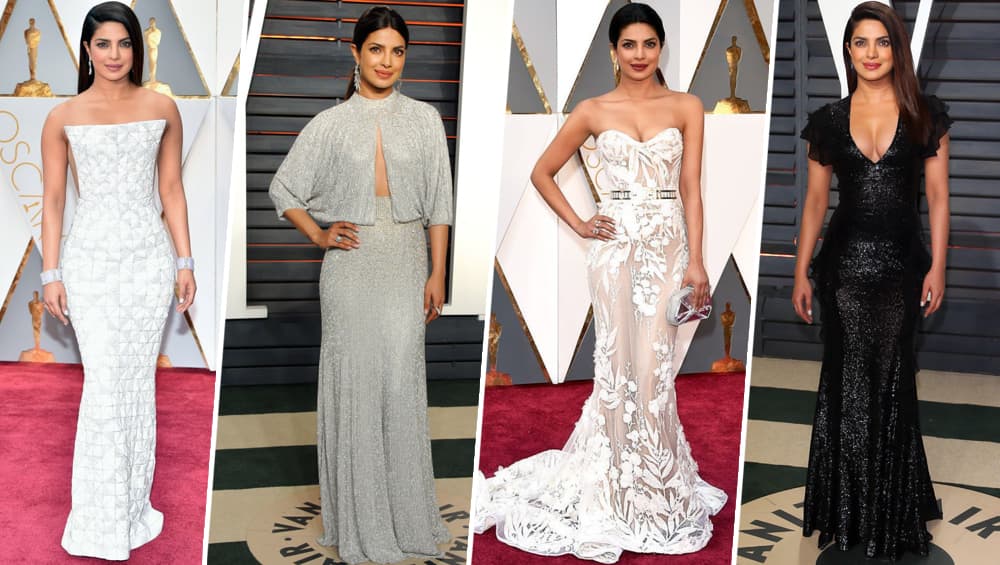 At Academy Awards, Priyanka Chopra has had a dream run with her impeccable personal style. Her sartorial choices included the famous Oscars 2016 outing when she wore an off-shoulder Zuhair Murad creation along with $8 million worth of jewels. The 'naked' Spring 2016 Couture gown by Lebanese designer became one of Google's most-searched gowns of 2016. Priyanka has also worn Jenny Packham gown, Ralph & Russo gown and Michael Kors outfit for main ceremony and Oscars after party. It will be interesting to see what PC opts for after becoming Mrs Jonas.