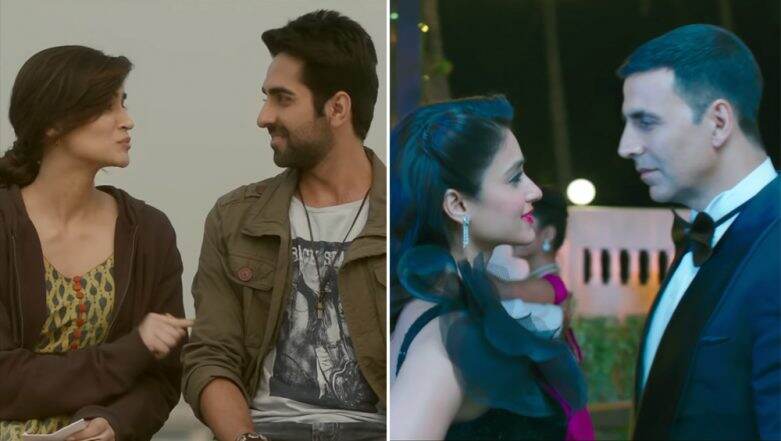 Valentine's Day 2019 is right around the corner. On February 14, we celebrate one of the most romantic days of the year. We hope you made the best of the Valentine week by celebrating Hug day, Kiss Day, Teddy day and more. Every year, Bollywood churns of tons of romantic numbers and this Valentine's Day it may be a good time to listen to a few of them or let them play in the background as you enjoy some quality time with your loved one. Here's a Valentine's Day 2019 playlist for you!
In this playlist,  you will find some of the most romantic songs including your favourite Arijit Singh numbers such as "Raabta".  There are also some other singers like Atif Aslam and Rahat Fateh Ali Khan to serenade you and your Valentine. Valentine Week 2019 Calendar PDF Download Online: List With Dates of Valentine's Day, Rose Day, Chocolate Day, Hug Day, Kiss Day to Celebrate the Festival of Love!
1.Raabta
Why not settle for a close dance as you listen to this love ballad from Agent Vinod during your late evening dinner! It is hands down one of the most romantic songs sung by Arijit Singh.
2. Tera Hone Laga Hoon
This beautiful number is an easier way to express your feelings to your partner than even saying 'I Love You.'
3. Pehli Nazar Mein
A romantic track to totally set you in the mood for a Valentine's Day date. You will find this love song in everyone's playlist for sure!
4. Nazm Nazm
This song has the perfect lyrics to make you write some love notes for that special someone.
5. Tere Sang Yaara
This romantic track featuring Akshay Kumar and Ileana D'Cruz is a soothing track that works its charm over you with magical vocals by Atif Aslam. Let this be on your love playlist.
6. Teri Ore
Romantic duets are a staple for Bollywood and some of them can charm you for years. "Teri Ore" is exactly one of them. It may be slightly old but the song is still very enjoyable.
7.  Bol Na Halke Halke
Is it even possible to have a romantic songs playlist without a song of Rahat Fateh Ali Khan in it? Bol Na Halke Halke is the perfect romantic number that is soft and mushy with all its lyrics
We hope you spend this Valentine's Day listening to some of these songs high on love. Share this playlist with your loved one and make your own sweet memories to these lovely songs. Happy Valentine's Day people!