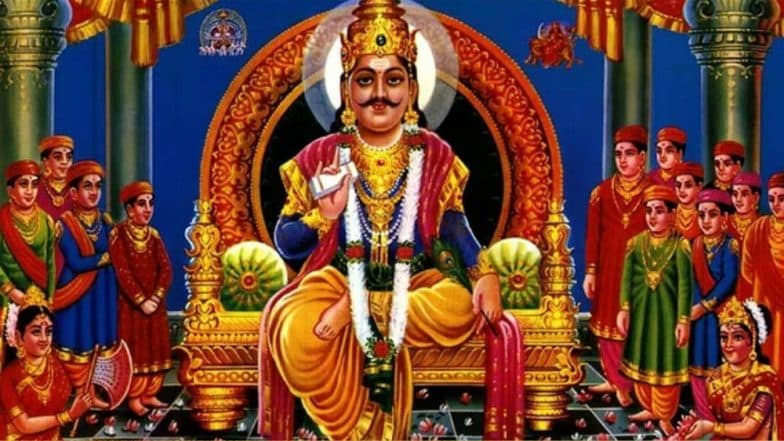 India is land of hundreds and thousands of festivals, each having its set of customs and rituals. On the fifth and last day of Diwali, while most of us join in Bhai Dooj celebrations, a festival of brothers and sisters, the Kayastha community perform Chitragupta Puja. The festival celebrated in honour of Lord Chitragupta, a Hindu god assigned with the task of keeping complete records of actions of human beings on the earth. This year, Chitragupta Puja also known as Kalam-Dawat is celebrated on November 9, 2018. To commemorate this festival on Friday, we bring to you the Chitragupta Puja 2018 time, shubh muhurat, Kalam Dawat Pujan significance, shloka and katha. Bhai Dooj 2018 WhatsApp Stickers & HD Images for Free Download Online: Best Bhau-Beej Wallpapers, GIF Greetings and Messages to Wish Happy Bhai Tika.
Chitragupta is the principle deity of Kayasthas, a Hindu caste who have traditionally acted as scribes, keepers of public records and accounts, and administrators of the state. This is why they worship Chitragupta Maharaj who maintain the record of human actions on earth. He is known as the God of Justice who decides whether a person will go to heaven or hell in the afterlife.
Chitragupta Puja 2018 Shubh Muhurat Time
On November 9, Chitragupta Puja will take place. There are two auspicious timings (shubh muhurat) to celebrate the festival. In the morning, the shubh muhurat is between 6:51 am – 9:10 am and devotees who cannot perform the puja in that window, they must conduct Kalam Dawat Puja in the afternoon between 1 pm – 2:32 pm.
Chitragupta Shloka to Chant on Chitragupta Puja
Devotees must chant this important mantra to please the son of Brahma, Lord Chitragupta - Masibhajan sanyuktacharsi twam mahitale. Lekhi katni hasta chitragupta namostute. Chitragupta namostubhyam lekhashardayakam, kayastha jatimasadaya chitragupta namostute.
Chitragupta, the 17th son of Lord Brahma, one of the creator gods in Hinduism. Chitragupta's mother is Devi Saraswati, the Hindu Goddess of Knowledge, Wisdom and Intellect. The record-master and bookkeeper the Lord Yamaraj, the God of Death and Dharma. Worshipping Lord Chitragupta ensures the devotees will not fail in his task or be deceived.