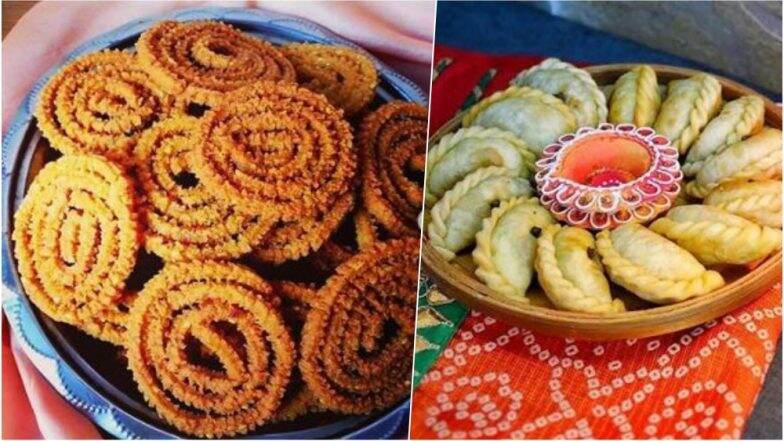 India is a diverse nation with so many festivals. And food plays an important role in each. No occasion is complete without traditional delicacies prepared to celebrate the occasion. With Diwali at our doorsteps, now's the time to sink our teeth into some delicious delicacies made specially for the occasion and share them with family and friends. So be prepared to put on a few extra kilos. If you are planning to host a Deepavali party for your friends or relatives, we have a list of delicious, crunchy, sweet and savoury snacks you can whip up. Diwali 2018: 5 Healthy Recipes For The Festive Season That Don't Compromise on Taste!
While there is not one particular food item that is prepared on Diwali, it is platter full of assorted food both sweet and savoury. Traditional sweets like mithais are widely consumed on this day as people greet and meet each other. There are several dry snacks you can prepare and store in advance before the festival commences. These snacks or namkeen can be served to all the guests who come home. These are tasty, easy to prepare and can be stored for a long period of time. This Diwali, forget your calorie count and enjoy these lip-smacking Indian dry snakes. Diwali 2018: Tips For Hosting The Perfect Party For The Festival of Lights.
Popular Diwali Snack Recipes to Make at Home
1. Chakli
Chakli is a popular deep-fried Gujarati snack item and is also prepared by a lot of Maharashtrians. The South Indian version of Chakli is called Murukku which is made from rice flour and urad dal flour.
2. Mathri
Punjabi mathris are a crispy and flaky version of puris. They make for a good snack item with a cup of hot tea. You can also add dried fenugreek leaves to make a methi mathri.
3. Gujiya
Gujiya is a sweet deep-fried dumpling made with suji or maida with a stuffing of sweetened khoya and dried fruits.
4. Poha Chivda
Poha is deep-fried and mixed with nuts and spices. This is one of the most popular Maharashtrian snack items.
5. Shankarpali
It is a Maharashtrian version of shakkar para and is made with whole wheat flour, sugar and milk.
These delectable food items make for an ideal snack to serve when guests come home this Diwali. These traditional staples can be swapped among neighbours, friends and families. No matter how hard you may try to eat healthy this Deepavali, these snacks are going to tempt you and it becomes inevitable to not savour them. Forget those calories for a few days and celebrate the festival with utmost gusto. We at Latestly, wish you a very Happy Diwali 2018!