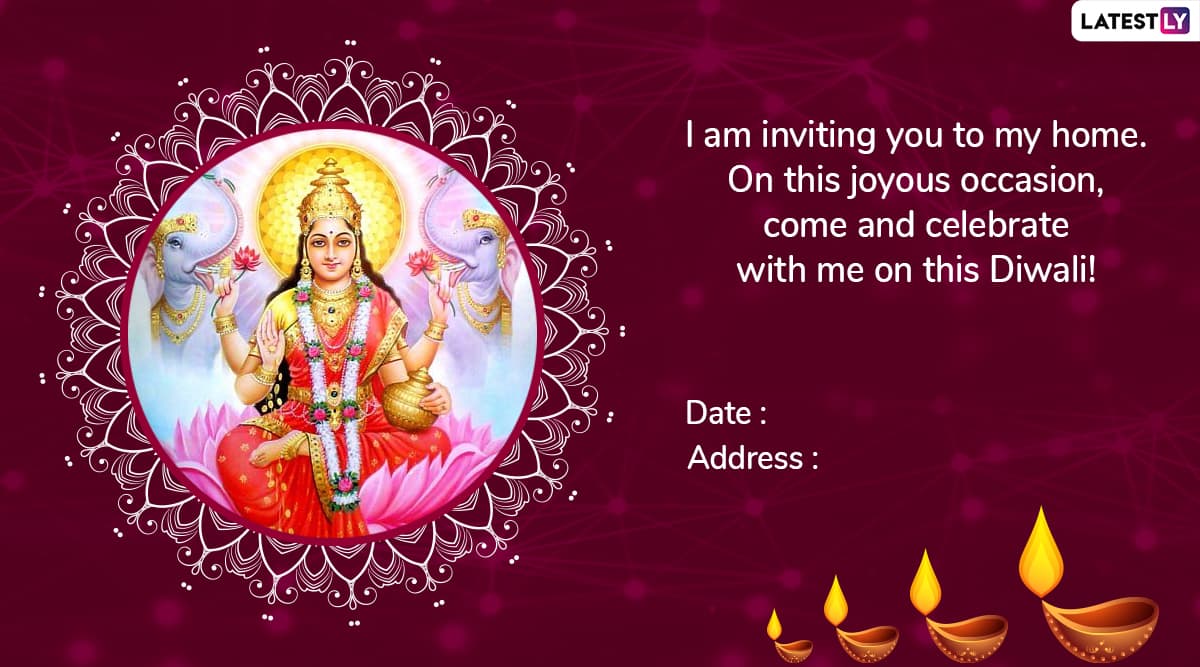 The auspicious festival of Diwali brings joy and laughter to families who strengthen their bonds gathering under one roof. This one such occasion which allows people to spend some time together with their special ones at lunch or dinner. Some even observe Goddess Lakshmi Puja at their home to mark the festivity. Diwali 2019 falls on October 27, and there is a lot to do. One of those essential tasks involves sending out invitations to your friends and family for Lakshmi Puja and Diwali Party. Well, you can minus that stress as we have got you the perfect Diwali 2019 invitation cards format. These messages and images are absolutely handy. All you need to do is place the date and venue; your Happy Diwali 2019 invitations are ready! Diwali 2019 Wishes in Advance: WhatsApp Stickers, SMS, GIF Image Messages, Quotes and Facebook Photos to Send Happy Deepavali Greetings First. 
Hosting a Diwali party is a significant tradition that Hindu devotees in India love to boast. The decorations, themes and line of delicious food adjusted in the dining area is so accurate for Diwali celebrations at home, only with the near ones. In the midst of all such preparations and gathering the Lakshmi Puja items, making a beautiful invitation card is often missed. And it is understandable! Hence, we have accumulated the best Diwali 2019 invitation messages and even the format. With the below Diwali 2019 invitation cards format, it will now be easier for you to send out to your friends and family. Besides, the Happy Diwali messages are also great for last-moment preparations. Diwali 2019 Calendar: Dates and Tithi for Dhanteras, Naraka Chaturdashi, Lakshmi Puja, Govardhan Puja and Bhai Dooj During 5-Day Hindu Festival.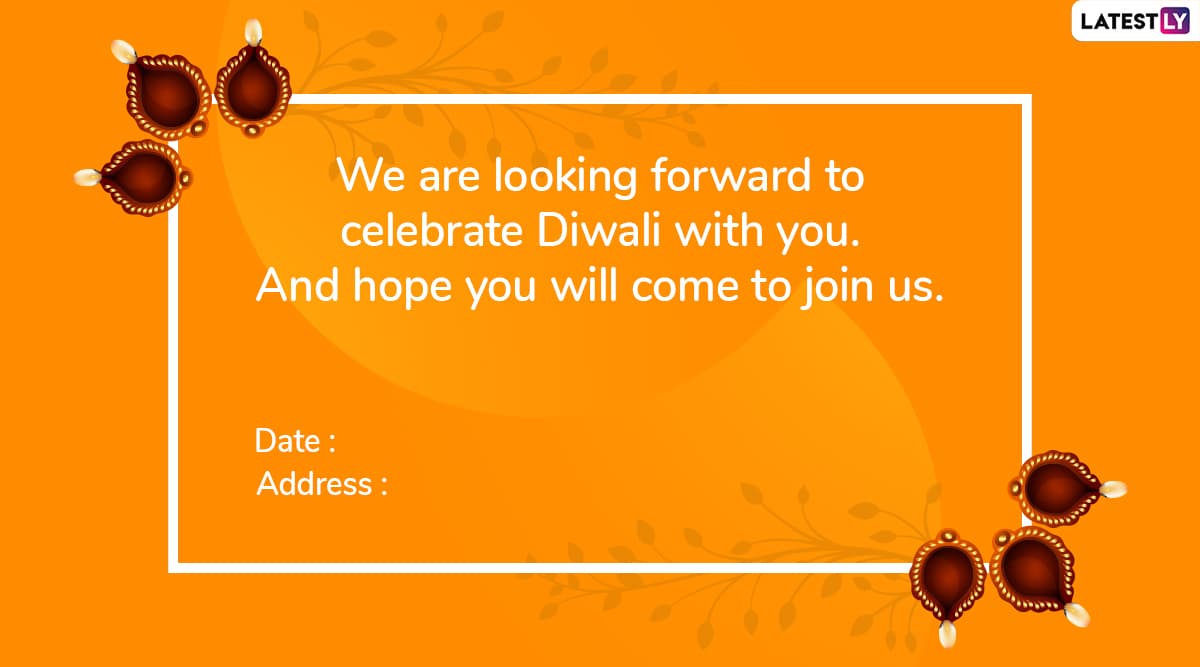 Message Reads: We are looking forward to celebrate Diwali with you. And hope you will come to join us.
Date:
Address:
Message Reads: I think it will be great, if we celebrate Diwali together. My kids are thrilled to the news that I am inviting you for Diwali. Please Come!
Date:
Address:
Message Reads: We are planning a great Diwali celebration this year. Please come and join with us to make the Diwali celebration a great success
Date:
Address: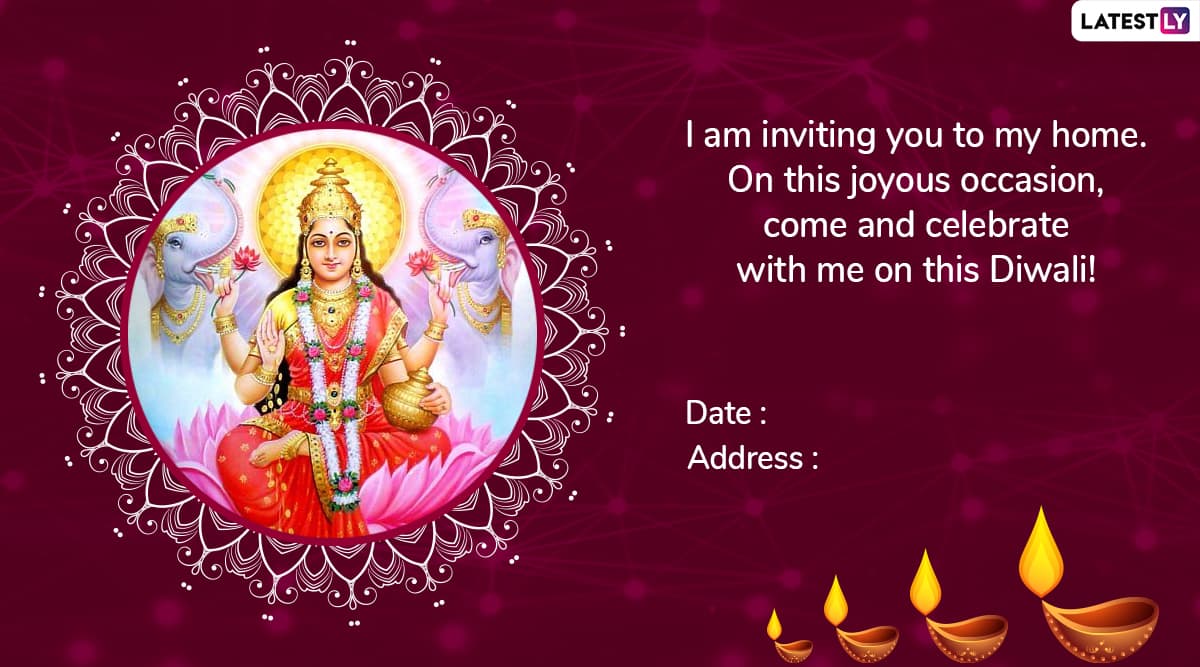 Message Reads: I am inviting you to my home. On this joyous occasion, come and celebrate with me on this Diwali!
Date:
Address:
Message Reads: Let us celebrate this Diwali, to make this festival to a long lasting memory in our mind.
Date:
Address:
Message Reads: Our diwali will be blessed if you and your family join us for a festive lunch.
Date:
Address:
The above are some of the Diwali invitation messages that you can use to send invites to your near one. Host your Deepavali party gracefully and with no stress. Decorate your house with the earthen lamps, relish in the traditional desserts, embrace every corner with colourful Rangolis and celebrate the auspicious festival with your near ones.