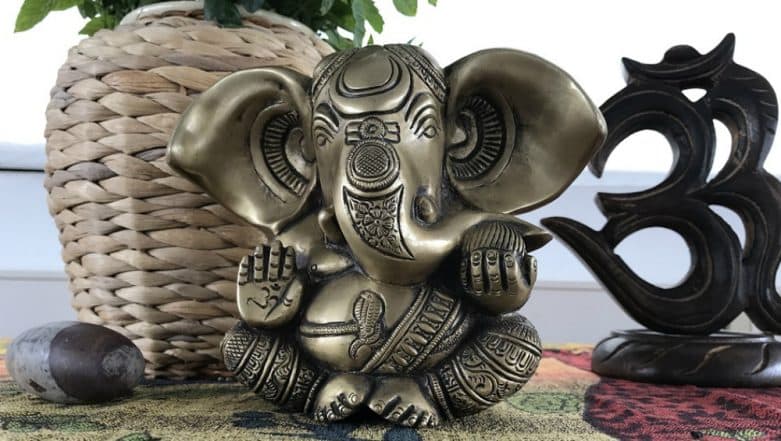 The auspicious occasion of Ganesh Chaturthi is fast approaching. The Hindu devotees across India are in their final preparations to welcome their favourite god, Ganpati Bappa. This year, Ganesh Chaturthi falls on September 2, and the Ganeshotsav celebration will continue till September 12. The festival is celebrated with much enthusiasm among the devotees in the nation. Apart from traditions and rituals, Ganesh Chaturthi celebration includes listening to devotional songs dedicated to Lord Ganesha. On the significant occasion of Ganeshotsav, listen to these Ganesh Chaturthi 2019 bhajans sung by Anuradha Paudwal and Anup Jalota. These singers have always been famous for their melodious rendition of devotional songs dedicated to Lord Ganesha. From "Vighna Vinashaka Gananatha" to "Ganpati Deva Teri Jai Jaikar," listen to these devotional songs dedicated to Bappa Morya during the auspicious festival. Easy Rangoli Designs for Ganesh Chaturthi 2019: Make Simple and Traditional Rangoli With Dots and Flowers During Ganeshotsav. 
Also known as Vinayaka Chaturthi, the festival usually takes place during the end of August or early September, depending on the cycle of the moon. The festival extends over ten days with the most prominent spectacle happening on the last day called Anant Chaturdashi Day. Throughout the festival, devotional songs and bhajans can be heard from every corner of the Ganpati pandals. Anuradha Paudwal and Anup Jalota's melodious voice during the Ganeshotsav is extremely popular among the devotees. Check out the full audio song jukebox of famous Ganesh Chaturthi bhajans, voiced by Paudwal and Jalota along with other singers. From Siddhivinayak Temple in Mumbai to Khajrana Ganesh Temple in Indore; Here are 5 Ganpati Temples You Should Visit This Ganeshotsav. 
Ganesh Amritwani by Anuradha Paudwal
Anuradha Paudwal's devotional songs are the most played during significant festivals in India. The playback singer's melodious voice captivates devotees who are mesmerised in her soulful bhakti geet. This jukebox has a collection of various Ganesh Chaturthi bhajans including "Vighna Vinashaka Gananatha" which is one of the most famous devotional songs dedicated to Lord Ganesha.
Ganesh Bhajans by Anup Jalota
Anup Jalota is another lead singer whose soulful voice has captivated the Ganesh bhakts for many years now. This audio jukebox includes various songs such as "Vakratund Mahakay," "Ganpati Ashtavinayak" and many other bhakti geet dedicated to Lord Ganesh. Why Should You Not Look at the Moon on Ganesh Chaturthi, Is There a Scientific Explanation?
Ganesh Bhajans
This audio jukebox includes popular Ganesh bhakti songs like "Jai Ganesh Deva," "Ganpati Bappa Har Lo Bhakton Ki Peer" and ten other bhajans to listen during the auspicious occasion. Along with Anuradha Paudwal, other famous singers such as Ravindra Sathe, Hariharan and Sadhana Sargam.
Devotees who keep long day fast, engage themselves in singing Ganesh bhakti bhajans, to keep themselves enlightened during the festival. These soulful rendition of Ganesh Chaturthi songs are perfect for listening and chanting to please Ganpati Bappa.