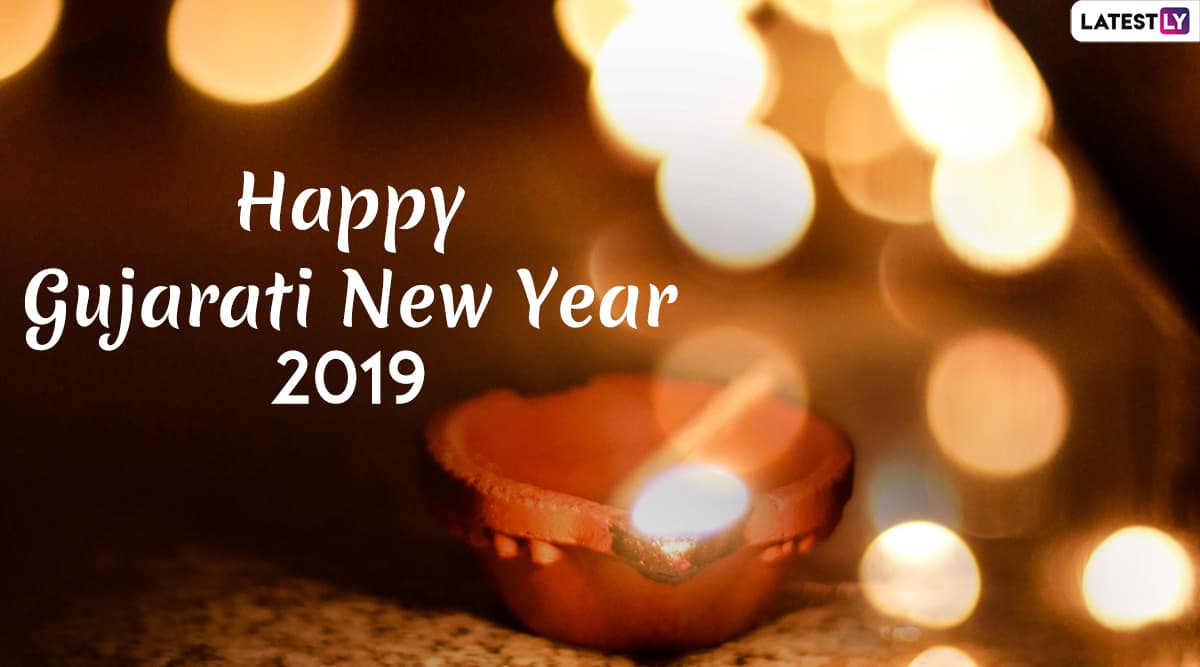 The festive week of Diwali 2019 has begun. Amongst the festivals that are celebrated in the 5-day of Diwali, is 'Gujarati New Year'. It also coincides with the day of Govardhan Pooja. Gujarati New Year is celebrated a day after Badi Diwali. According to the Hindu calendar, it falls on Shukla Paksha Pratipada in the Hindu month of Kartik. The festival of Gujarati New Year is also called as 'Bestu Varas'. Below we will tell you about Gujarati New Year, its date in 2019, significance, shubh muhurat and the Puja Vidhi (way of worship) people should follow for the auspicious day. Happy Gujarati New Year 2019 Wishes Images: Nutan Varshabhinandan, Bestu Varas WhatsApp Stickers, Vikram Samvat 2076 Greetings, SMS and Naya Saal Facebook Messages.
When is Gujarati New Year 2019?
This year, the Gujarati New Year will be celebrated on October 28, i.e. Monday. The festival of Gujarati New Year is usually celebrated as the Shukla Paksha Pratipada starts in the month of Karthik, as per the Vikram Samvat Hindu Calendar. Gujarati New Year 2019 Greetings & Bestu Varas Wishes: WhatsApp Stickers, Nutan Varshabhinandan Images, Hike GIF Messages, SMS and Quotes to Send On Fourth Day of Diwali.
As people in India celebrate Gujarati New Year, people in Gujarat and people of Gujarati community also celebrate Gujarati New Year on the same day. The Gujarati New Year is observed on the 4th day of the 5-day Diwali festival.
When is the Shubh Mahurat of Gujarati New Year or Bestu Varas 2019?
There is no such specific time or mahurat for people to offer prayers to do their rituals on Gujarati New Year, as the entire day is considered auspicious and lucky. However, people can follow the timings of Govardhan Pooja, as they are considered auspicious on this day. Also, here are the important dates related to Gujarati New Year 2019.
New Year as per Hindu calendar – 

Gujarati Vikram Samvat 2076 begins

Gujarati New Year 2019 Date: October 28, 2019, i.e. Monday

Pratipada Tithi Begins – 09:08 AM on Oct 28, 2019

Pratipada Tithi Ends – 06:13 AM on Oct 29, 2019
What is the significance and Puja Vidhi of Gujarati New Year?
The festival of the Gujarati New Year is an important one for the people of Gujarati community. They celebrate their New Year with enthusiasm and fun. It is also the time of the year when businessman, traders, and professionals close their old accounts books and open new accounts books. In Gujarati culture, the book of accounts is known as Chopda.
The worshipping of this Chopda is known as Chopda Pujan. The new Chopda is then marked with auspicious symbols, while it being worshipped in the presence of Goddess Lakshmi. It is said that it helps to make the New Year more profitable.
People buy new clothes, decorate their house, make and distribute sweets and do much more while celebrating the festival of Gujarati New Year. We, at LatestLY, wish you and your family a very happy and prosperous 'Happy Gujarati New Year 2019'.