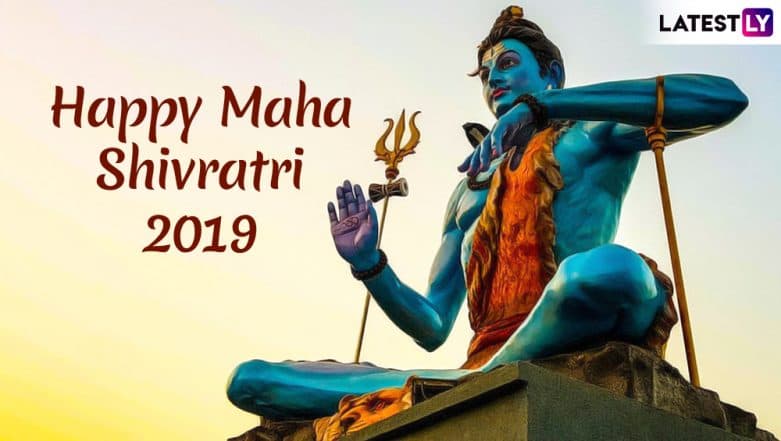 The day of Mahashivratri is being celebrated today ie March 4 this year. Maha Shivratri marks the 'great night of Lord Shiva.' On this day, all followers of Lord Shiva ensure that they wish each other Happy Mahashivratri and exchange Lord Shiva images and picture messages. Mahashivratri greetings are shared on social media over WhatsApp, Facebook and Instagram to spread across the good vibes and wishes for the auspicious day. If you are specifically looking for Mahashivratri messages in Hindi then let us give you a collection of Lord Shiva image messages, SMS, WhatsApp stickers. People observe a fast and visit Shiva temples to pray and seek blessings from the favourite Lord. Lord Shiva is said to grant all the wishes if is devotees show a true dedication for him. You can also send across these Happy Mahashivratri greetings to wish everyone on this auspicious day. Mahashivratri 2019 FAQs: Date, Significance, History, Muhurat, Puja Timings, All Questions Answered About Maha Shivratri.
Mahashivratri is celebrated on the 13th night and 14th day of the Magha month of Hindu calendar. It is said that this day also celebrates the overcoming of darkness and ignorance in life and the world. Mahashivratri sees a lot of people heading over to Shiva temples to offer their prayers. It may be just a day but the enthusiasm about Mahashivratri is seen in the main Shiva temples from almost a week in advance. Those who cannot visit the temples, perform Lord Shiva worship at home. They also send across Lord Shiva images, Lord Shiva messages, Mahashivratri messages and greetings to pass on the wishes of Happy Mahashivratri. Maha Shivratri Images & Lord Shiva HD Wallpapers for Free Download Online: Wish Happy Mahashivratri 2019 With WhatsApp Sticker Messages and GIF Greetings.
Happy Maha Shivratri Messages and Greetings in Hindi 2019
Message reads: Mahashivratri Ki Jai Ho! Sabki Mahashivratri Mangalmaye ho. Shiv Ki Shakti Shiv Ki Bhakti, Khushi Ki Bahar Mile Shivratrike Pavan Avsar Par Apko Zindagi Ki Ek Acchhi Nai Suravat Mile, Maha Shivratri Ki Hardik Shubhkamnayen.