Performing yoga every morning is amazing. After a few hours of sleep, our body responds affectionately to the movement and our mind is clear and stress-free. It is very important to practice a few asanas and meditation every day to lead a healthy lifestyle. In order to promote the positivity that Yoga inhales, June 21 is observed as International Day of Yoga. As we celebrate the gift that ancient India has given us, here are some Yoga Day 2019 messages in Hindi that you can share to motivate your near ones. Send the International Day of Yoga 2019 wishes, quotes and messages through Facebook, along with GIF images and Yoga Day 2019 greetings in Hindi. Besides, we have also provided a direct link to download super cool Yoga Day 2019 WhatsApp stickers. Yoga Quotes, GIF Image Greetings, SMS, Facebook Messages to Send on International Day of Yoga. 
International Day of Yoga was first celebrated in 2015. The Prime Minister of India, Narendra Modi in his UN address suggested June 21 to observe this day, as it is the longest day of the year in the Northern Hemisphere and also shares a special significance in many parts around the world. It is a very special day and events in a large number are arranged at every corner to promote the importance of Yoga. On the occasion of Yoga Day 2019, below are some of the images, International Yoga Day 2019 messages and greetings, GIF images and quotes on Yoga that are motivational enough to gear up and perform some asanas on the Yoga mats. Quotes on Yoga That Will Motivate You to Practice Asanas & Maintain a Healthy Lifestyle. 
International Day of Yoga Messages in Hindi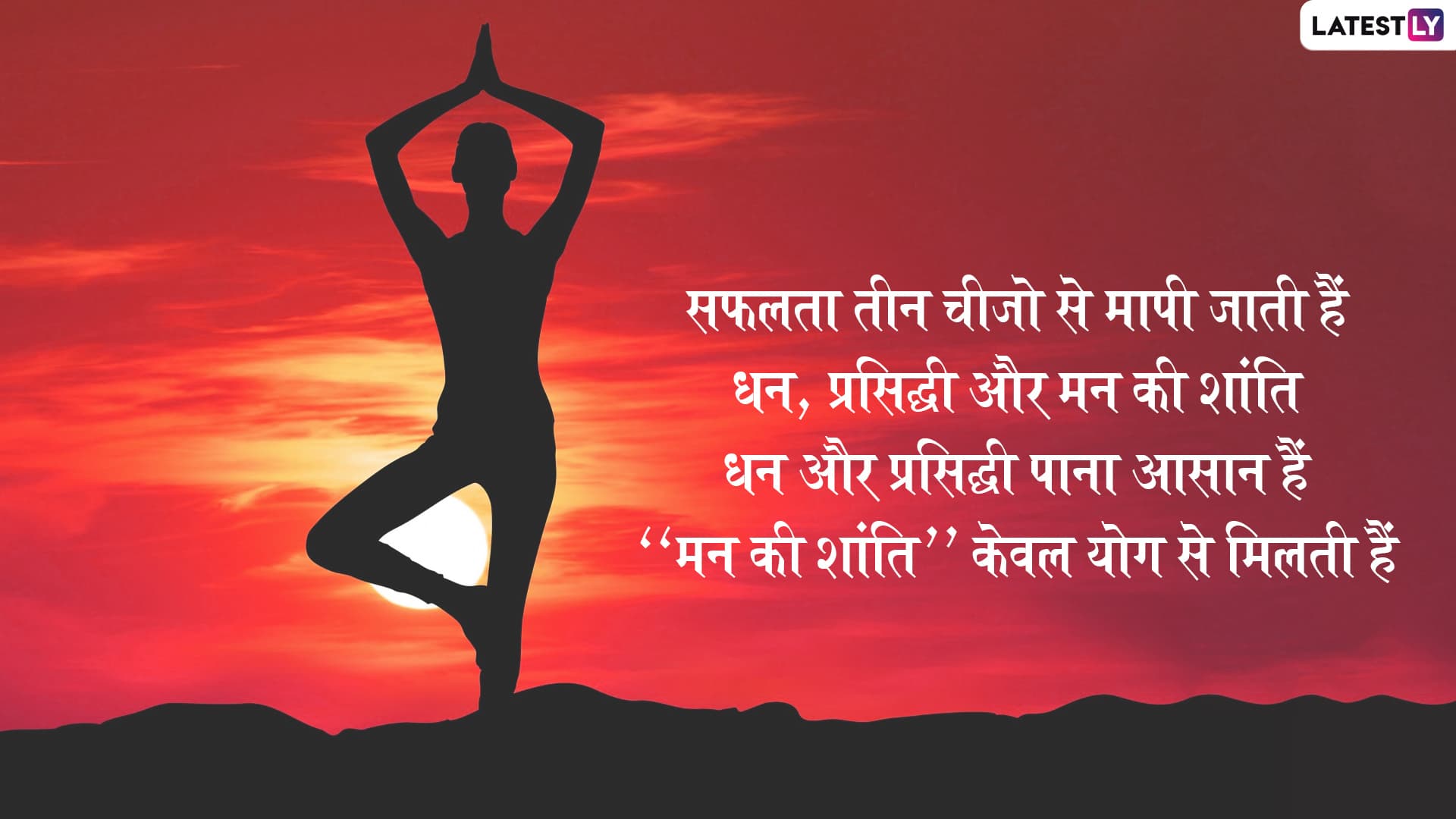 Yoga Diwas ki Shubhkamnaye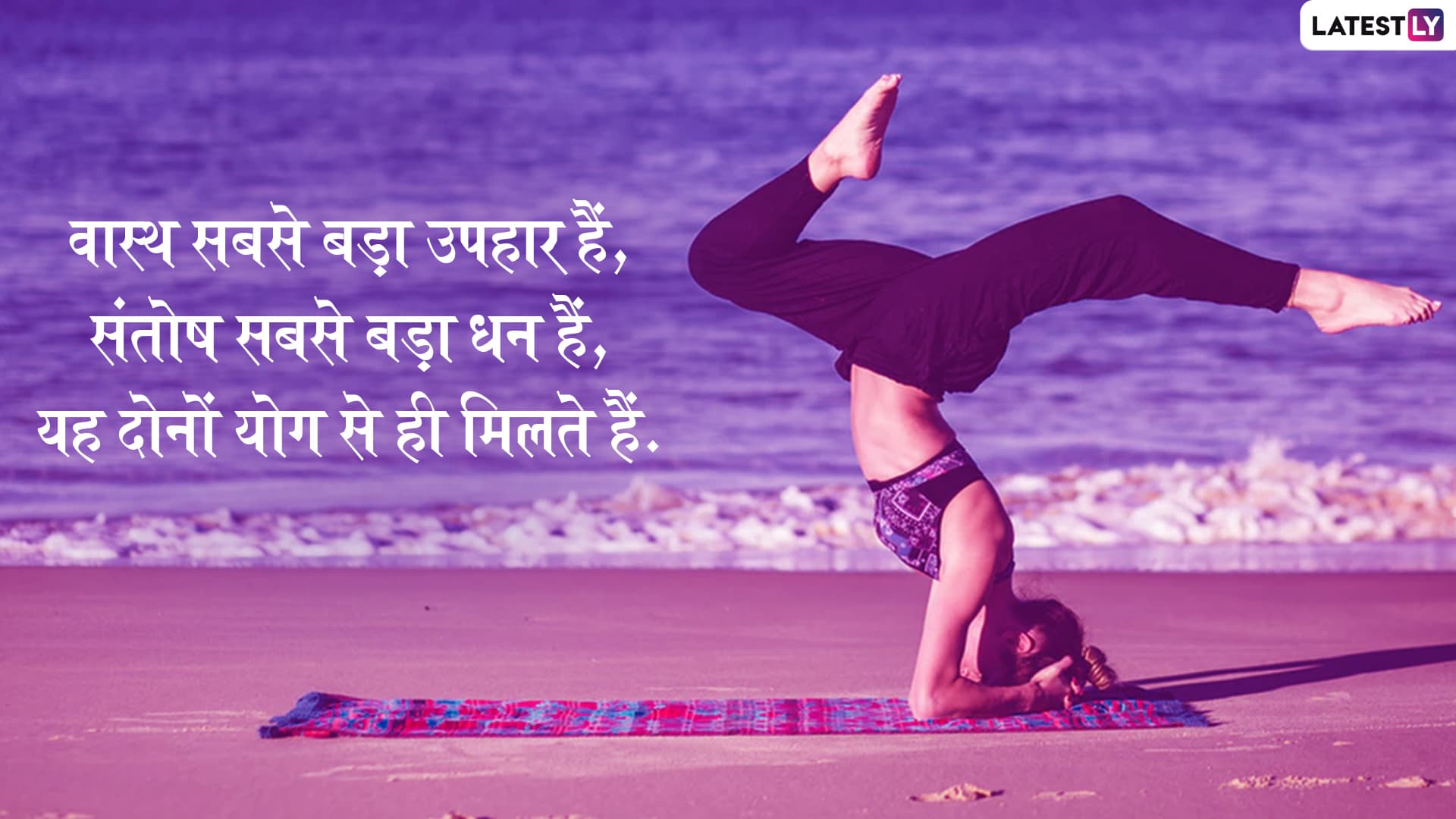 Yoga Diwas 2019
International Day of Yoga 2019 Messages in English
WhatsApp Message Reads: Yoga teaches us to cure what need not be endured and endure what cannot be cured. Wishing you Happy International Yoga Day
WhatsApp Message Reads: Yoga allows you to rediscover a sense of wholeness on your life, where you do not feel like you are constantly trying to fit broken pieces together.
WhatsApp Message Reads: Yoga is the setting of the mind into silence. When the mind has settled, we are established in our essential nature, which is unbounded consciousness. Our essential nature is usually overshadowed by the activity of the mind. Happy World Yoga Day
WhatsApp Message Reads: Yoga is about awakening. Yoga is about creating a life that brings more beauty and more love into the world. Make your life Beautiful on this International Yoga Day
WhatsApp Message Reads: Sun salutations can energize and warm you, even on the darkest, Coldest winter day.  Let this Yoga Day energize your life throughout the year
How to Download International Day of Yoga 2019 WhatsApp Stickers?
WhatsApp has made all the events a little more joyful with its amazing collection of stickers. Much like other festivals, the online messaging app has introduced the International Day of Yoga 2019 stickers. Android users can either visit Play Store app or click here to download Yoga Day 2019 WhatsApp Stickers for free.
Watch Video: Happy Yoga Day 2019 Wishes
There are countless benefits that you earn, with the everyday practice of Yoga. It may not be possible to put in a full hour of Yoga. But in most days, at least try and allow 30 minutes for the body to stretch and relax. We hope that the above International Day of Yoga wishes and messages will benefit you to motivate and help include Yoga as your everyday habit.
(The above story first appeared on LatestLY on Jun 21, 2019 06:30 AM IST. For more news and updates on politics, world, sports, entertainment and lifestyle, log on to our website latestly.com).