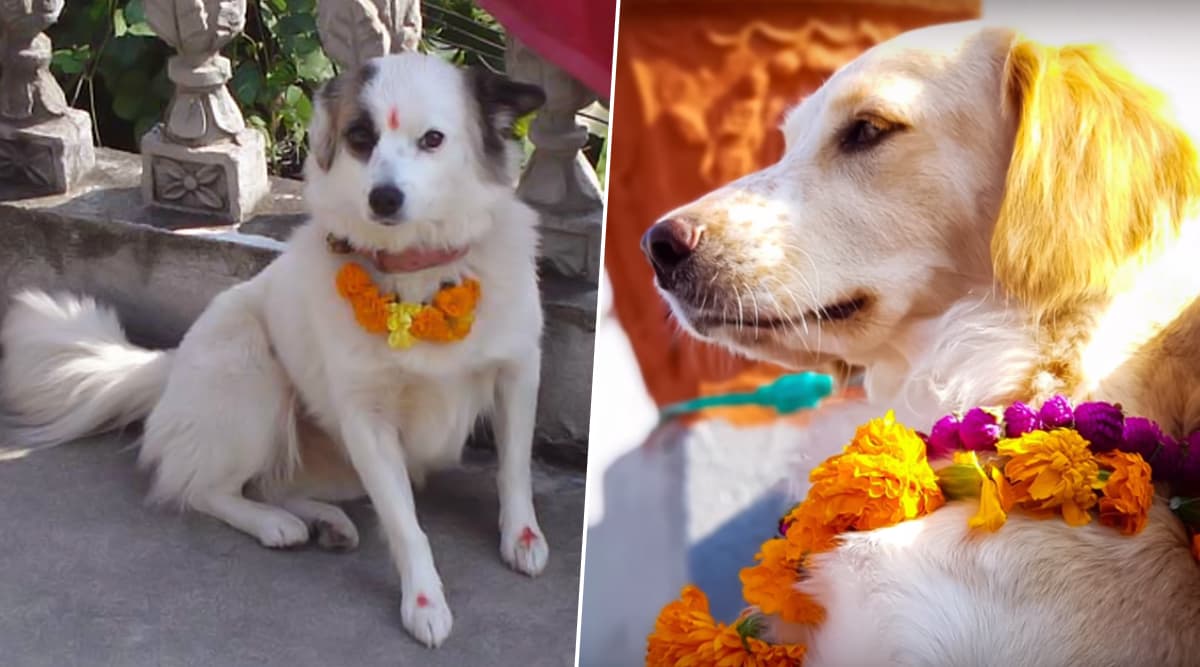 Tihar or Diwali also known as Yamapanchak or Deepawali is a five-day-long Hindu festival celebrated in Nepal and some parts of north-east India. The second day of the festival of lights is known as Kukur Tihar or "day of the dogs". On this day, dogs are celebrated in the country. Both strays and pets are adorned with flower garlands and offered food as a part of the festival. Gulal or tilak are applied on their foreheads marking the festival during a ceremonial puja (prayers). They are then treated to milk, eggs, meat or whatever be their likings. Kukur Tihar 2019 falls on October 27. Throughout Tihar, Hindus in Nepal light up their homes and pray to Goddess Lakshmi, the Goddess of Wealth. Diwali 2019 Calendar: Know Dates of Dhanteras, Lakshmi Puja, Bhai Dooj and Other Important Days of The Festival of Lights.
Hindus believe the dog to be a messenger of Yamraj, the God of death. Yamraj has two watchdogs who guard the gates of hell. It is believed that they will be able to please Yamaraj himself by treating dogs nicely. The practice of worshipping dogs comes from Hindu mythology. In the Mahabharat, when Pandavas were on their final voyage to Swarga, a dog followed them till the gate. According to the scripture, Yudhistira who shared a strong bond with the dog refused to enter heaven without the canine. According to the sacred scripture of Rigveda, Samsara, the mother of dogs, helped Indra in recovering his stolen cattle.
Watch Kukur Tihar Celebrations Below:
Nepal not only worships dogs but other birds and animals too. On the first day of Tihar, the crow is worshipped while on the morning of the third day, celebrations are held for cows. On the fourth day, people worship oxen and mountains. Kukur Tihar is highly regarded across countries in the world for showing respect and gratitude towards dogs. In 2016, Mexico also started Kukar Tihar with celebrations being held at Revolution Square in Mexico City.