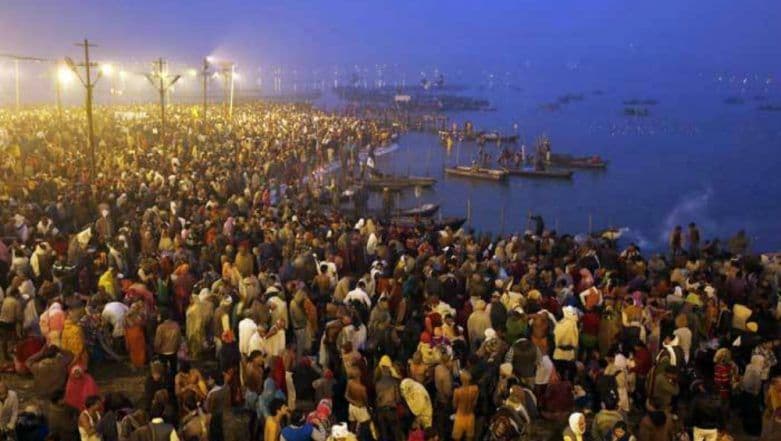 Mahashivratri is being celebrated across the country on Monday, March 4, with people fasting for the entire day and queuing outside temples to worship Lord Shiva. The Prayagraj Kumbh is all set to witness the last holy dip of the Kumbh Mela, Shahi Snan, on Mahashivratri as it is expected that around 60 Lakh to 1 crore devotees will take holy bath at Uttar Pradesh's Prayagraj. This day symbolises the last holy bath of the Kalpvasis and is directly related to Lord Shiva. As per the mythology, this day is awaited in the heavens as well. Mahashivratri 2019: Know About These Tallest Shiva Statues in India; See Pics.
Maha Shivratri is celebrated to honour Lord Shiva and considered one of the major festivals of Hinduism. This festival is solemn and marks the remembrance of overcoming darkness and ignorance in life and the world. Unlike any other festival, this festival is celebrated at night and the Maha Shivaratri itself means "the Great Night of Shiva". Know About the Shubh Muhurat to Perform Maha Shivaratri Puja on The 'Great Night Of Shiva.
It is said that on this day Lord Shiva got married to Goddess Parvati and hence is eagerly awaited by his followers. Speaking on the signifance of Lord Shiva, also known as "destroyer of evil", Ashutosh Varshney of Grah Nakshtram, who has set up camp in Prayagraj Kumbh said, "Mahashivratri marks the culmination of the Kumbh and the prominent bathing days. And this time Mahashivratri is falling on a Monday – the day dedicated to Lord Shiva, which is falling after a long time." Know History, Significance and Legends Associated With Maha Shivaratri, the Festival of Lord Shiva.
To manage such a huge crowd on Monday, the Kumbh administration has elaborated the security and made other necessary arrangements. Security has been beefed up in the main 'snan' area and about 400 officials of Central Paramilitary Forces (CPF) has been called for deployment at various locations. In order to avoid any terrorist activity, Anti-terrorism commandoes, bomb disposal units, sniper dog squad, anti-sabotage commandoes with snipers and intelligence unit has been pressed into action.
Kumbh Mela, the largest human gathering in the world, with over 50 crore pilgrims expected to participate in the festival with the belief that taking a dip in the holy water of River Ganga will pave the way for their heaven and would rid them of their sins. The 55-day long Prayagraj Kumbh Mela will end Today i.e on March 4.