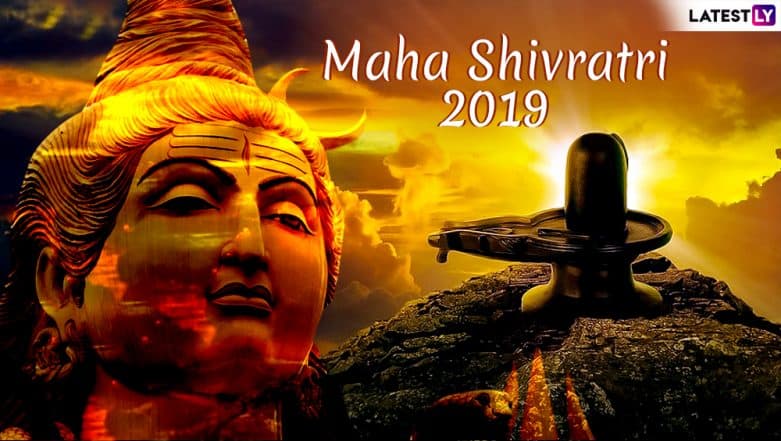 Mahashivratri is one among the most important festivals marked by the Hindus. This year Maha Shivratri 2019 will fall on March 4. It is a day which honours Lord Shiva. Known as Mahadev, he is of great importance in Hindu mythology as he is considered the 'destroyer of evil.' It is no less than a festival for devotees all over. Mahashivratri literally means 'the great night of Shiva'. On this day, devotees stay up all night, perform meditation, observe fast, offer milk and pray to seek his blessings. Devotees gather in thousands to pay a visit to Shiva temples. There are many mythological legends associated with celebrating Mahashivratri. Let us tell you more about the date, history and significance of this auspicious day. Most Significant Shiva Temples in India To Feel the Power of Devotion.
The day of Maha Shivratri has not just religious but even spiritual connotations. It is said that those who observe sincere worship of Lord Shiva on this day will attain moksha. So a lot of followers observe a day-long fast on this day. A widely celebrated festival across the country, Maha Shivaratri also denoted overcoming of darkness and ignorance in life as well as the world. People seek forgiveness from Lord Shiva for their past sins. Learn About the Significance of Lord Shiva's Accessories & Symbols.
Maha Shivratri 2019 Date
Maha Shivratri although is celebrated annually, it does not fall on a fixed date. It is celebrated on the 13th night and 14th day of the dark fortnight in the Hindu calendar month of Phalgun or Magha. So this year, Mahashivratri will fall on March 4, 2019. It marks the beginning of the summer season.
Watch Video of Date and History of Maha Shivratri
Maha Shivratri History and Significance
As we mentioned earlier, Maha Shivratri literally means 'Great night of Shiva.' There are several legends associated with celebrating this day. All of these stories glorify the greatness of the Lord. One of the highlights of Hindu mythology is the big war between the gods and demons. During the Samudra Manthan episode, Lord Shiva drank all the poison that was churning into the ocean. It is said to be this day of Mahashivratri.
Another legend states, on this day Lord Shiva and Parvati came together in a marital union. It is said when Parvati asked Lord Shiva which is his favourite ritual performed by his devotees, he said it is the one on the day of Maha Shivratri. There is one more reference about the celebration of Maha Shivratri which connects to the tandav performed by Lord Shiva. It is said that other Gods thus remember Lord Shiva as the one who destroys evil.
So Maha Shivaratri is a very auspicious day in Hinduism and people perform elaborate worship to Lord Shiva to please him. People pay a visit to famous Shiva temples, offer milk on the Shivaling and pray for moksha. Some temples even have fairs and other cultural programmes organised for this day.