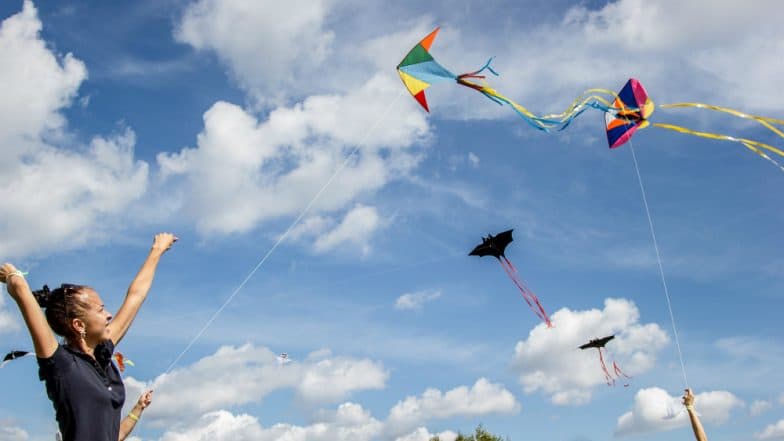 We have just celebrated the New Year and the memories are still afresh. Here we welcome the first festival of the year-- Makar Sankranti 2019, also known as the Kite Flying Festival. It is that time of the year again, when the bright blue sky will turn into a colourful one with a number of kites flying high. This year, Makar Sankranti will be observed on January 15. Where eating sesame sweets is a long-known tradition, and the taste buds just cannot wait for more, flying kites is more exciting to the kids. If it sounds cool to you as well, you will definitely love the unique DIY kite making ideas, the videos of which are available below in this article. How to Fly Kites and Win The Game With These Kite Flying Tutorial Video Tips and Tricks. 
Makar Sankranti 2019 is also known as Makaraa Sankranti or Maghi, and the festival is in reference to the deity Surya (Sun). The festivity marks the first day of the sun's transit into the Makara (Capricorn), marking the end of the month with the winter solstice and the start of longer days. The festival is known by different names and celebrated among different cultures across the country. It is known as Pedda Panduga in Andhra Pradesh, Makar Sankranti in Karnataka, Pongal in Tamil Nadu, Magh Bihu in Assam, Magha Mela in parts of central and northern parts of our country. Makar Sankranti 2019 Date Changes After 100 Years! The Harvest Festival Will be Celebrated on January 15 This Time, Know Why. 
Flying kites is a tradition which followed all over in the country and lately has spread in many parts of the world. This not only brings fun, but experts believe that it also has a number of health benefits. Flying colourful kites at our top roof or an open field gives us a healthy exposure in the sun from early morning. The early sun rays are famous for being a rich source of Vitamin D. The process of making, and flying kites among family members also uphold great significance of the festival. Here are some quick and easy DIY videos that will inspire you to create colourful kites this Makar Sankranti. Makar Sankranti 2019: Significance, Celebrations and Customs Attached to the Auspicious Hindu Festival. 
Watch Video of DIY Kite With Colourful Papers
If you are really short of time, then check out the above simple kite made using colourful paper, sticks and tape—all of these are easily found around the house or nearby stationary shops. After you are done making the Kite, decorate it as you want to, or give your kids to brainstorm and may create cute designs.
Watch Video of DIY Kite With Waste Material
There are definitely a lot of materials which are of not much use, at the moment, so why don't use them to your DIY Kite. The steps are easy and familiar. Just show off your creativity by making some best out of waste designs on your colourful Kite.
Watch Video of DIY Minion Kite
Honestly, not just kids, but there are a lot of adults who just cannot keep their eyes of cutest cartoon character like the minions. The above video shows how you can make your own Minion Kite. It is a must try craft for kids. All you need are coloured sheets, scissors, glue and thread.
Watch Video of DIY Kite With Newspaper
Well, it is not always necessary that you will have to include colourful papers while you are in your DIY session making a Kite. Crafting a kite with a newspaper is easy and perfect last minute that you need this Makar Sankranti.
Here, you go, quick, comfortable and colourful DIY videos to make beautiful Kites, this Kite Flying Festival. Enjoy the festivity with your family, have some delicious sesame and jaggery sweets, keep your hopes high and fly your colourful DIY Kites higher. Happy Makar Sankranti!