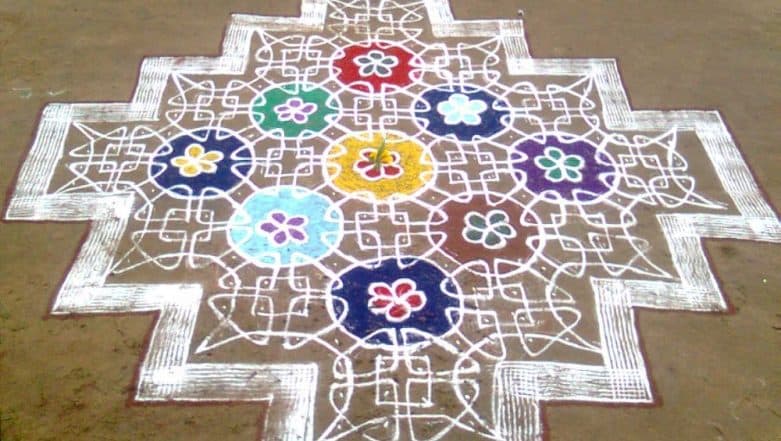 Rameswaram, Dec 19: The month of Margazhi has started, and people are marking the auspicious occasion by drawing Kolam (rangoli) outside their homes to begin the month-long celebrations. This month of the year is dedicated to worship Lord Vishnu and is especially auspicious for his devotees.
The month of Margazhi, which starts from December 17, is the ninth month of traditional Tamil calendar. It starts with Mrigashirsha Shukla Ekadasi and ends at Dakshinaayana. In Tamil Nadu, women celebrate this time of the year in their own different ways with great gusto and enthusiasm. Margazhi Masam 2018–19 Rangoli Designs: Watch Videos of Colourful Kolams to Make During Tamil Margali Month.
Men practice devotion by singing spiritual songs and chanting divine names as part of nagar sankirtan (singing of hymns throughout the community), while women use their creativity in drawing beautiful designs of Kolam outside their houses to invite the divine blessings for prosperity and happiness. During Margazhi, temples are opened early in the morning for the devotees to offer prayers to Lord Vishnu. More than following rituals, this is a great time to socialize and bond with other people of the community.