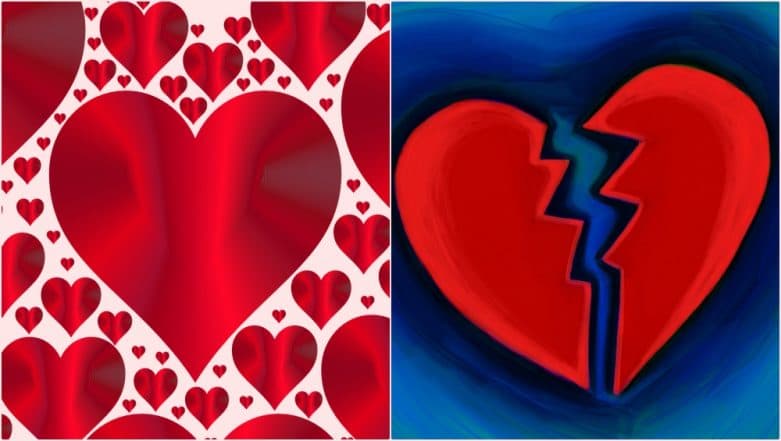 The month of February is full of special days. Yes, we are talking about Valentine's Day 2019 on 14th February. And the days are all revolving around the 'Festival of Love.' Valentine's Day is not your one-day extravaganza but are divided into Valentine Week and Anti-Valentine Week days. Come February, and everyone is excited about knowing about these days and dates, this year is no different. We bring to you the Valentine Week 2019 date sheet along with Anti-Valentine 2019 schedule to enjoy the month of 'love and hate' in equal measure. It is a full list of days beginning from February 7th and last until February 21st. It will include dates of Rose Day, Propose Day, Chocolate Day, Teddy Day, Promise Day, Hug Day, Kiss Day, Valentine's Day, Slap Day, Kick Day, Perfume Day, Flirting Day, Confession Day, Missing Day and Break Up Day. Valentine Week 2019 Calendar PDF Download Online: List With Dates of Valentine's Day, Rose Day, Chocolate Day, Hug Day, Kiss Day to Celebrate the Festival of Love!
Let us begin with Valentine Week 2019, because that's what millions of lovers are waiting for worldwide. Valentine's Day is about love and romance. It's about taking time out of your hectic schedule and make your significant one feel special. Many detractors call out the lavish V-Day celebrations and argue how a couple does not need one day to display their love. Probably, this is why there is an entire week of festivities related to Valentine's Day – Valentine Week! Valentine Week 2019 Full List in Image: Date Sheet of Rose Day, Propose Day, Kiss Day to Valentine's Day for Free Download Online.
In the run-up to Valentine's Day on 14th February, there are seven days dedicated to things/emotions that's love and relationship is associated with. These are – roses, chocolates, soft toys, proposal, hugs, kisses, and promises. Like these seven are integral in a romantic relationship, these seven days serve as a foundation for Valentine's Day celebrations. So here are the dates of Valentine Week 2019 days – Rose Day 2019 on February 7, Thursday; Propose Day 2019 on February 8, Friday; Chocolate Day on February 9, Saturday; Teddy Day on February 10, Sunday; Promise Day on February 11, Monday; Hug Day on February 12, Tuesday; and Kiss Day on February 13, Wednesday.
It is time to throw light on days post-Valentine's Day. Remember the phrase "too much of anything is bad"? Does it apply to love? Probably, yes. Well, do not worry as right extended Valentine Week aka Anti-Valentine Week takes place right after Valentine's Day celebrations on 14th February and as the name hints, the seven days involve a lot of bitterness, heartbreak, missing or ghosting, confessing and break up. Oh yes, there's also violent activities. In fact, the first two days are Slap Day and Kick Day!
Valentine Week 2019 - 7th to 14th February 
7th February: Rose Day 2019
8th February: Propose Day 2019
9th February: Chocolate Day 2019
10th February: Teddy Day 2019
11th February: Promise Day 2019
12th February: Hug Day 2019
13th February: Kiss Day 2019
14th February: Valentine's Day
Anti-Valentine Week 2019 - 15th to 21st February 
15th February: Slap Day 2019
16th February: Kick Day 2019
17th February: Perfume Day 2019
18th February: Flirting Day 2019
19th February: Confession Day 2019
20th February: Missing Day 2019
21st February: Break-Up Day 2019
So, that was complete date sheet of Valentine Week 2019 and Anti-Valentine Week 2019 days. For a Rose Day, there's a Slap Day, and for a Kiss Day, there's a Break Up Day. There is a lot of mushy love, and there is a hell lot of rona dhona! In Thanos' words – February is "Perfectly balanced, as all things should be."