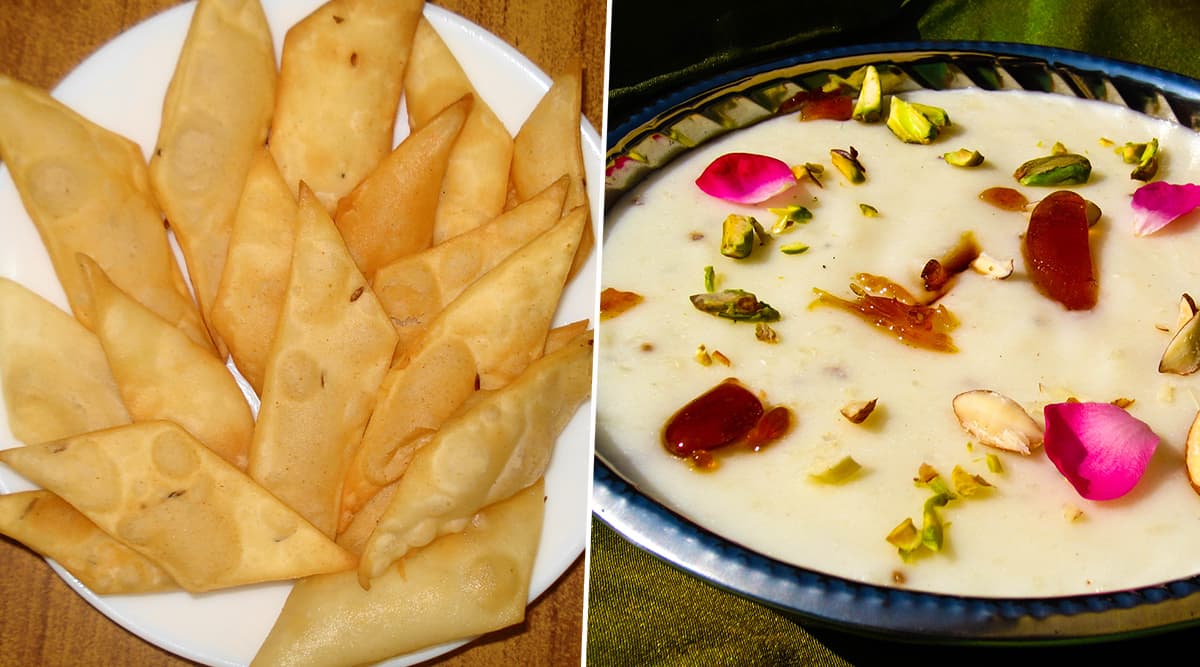 The festive season is here and we are sure some of you would only be excited about all the yummy food that will be made for Diwali. One of the exciting days among this five days celebration is Bhai Dooj. Also known as Bhau Beej or Bhai Phota, this day celebrates the bond between a brother and sister. So every Bhai Dooj calls for a family reunion. And what is a celebration without some food and feast? Ahead of Bhai Dooj 2019, we give you some delicious recipes you can make and impress all your relatives. The special day calls for a special feast and while there is a traditional Diwali Faral that is made every year, you can cook up something different for Bhai Dooj. We give you some video recipes of Diwali which you can easily make at home and welcome your relatives. Diwali 2019 Namkeen Recipes: From Namak Pare to Chakli, Here's How to Make Quick Party Snacks for Deepavali Celebration (Watch Video Tutorials).
Each year, there are certain sweets, namkeen and traditional snacks that are prepared for this festival of lights. In fact, no festive celebration in India is complete without sweets. Varieties of laddoos, shankarpali, kheer, barfi are some of the commonly made sweet items of Diwali. And if you still have time and want to make something of your own, then we give you easy to do snack and sweet recipes for Bhai Dooj. Diwali 2019 Snack Recipes: From Sweet Mathri to Caramalised Makhana Here are Delicious Snacks You Can Make At Home (Watch Tutorial Videos).
Achari Paneer
With the tanginess like a pickle combined with the flavour of the spices, Achari Paneer is a good option to include in your main course meal for the day.
Watch Video of How to Make Achari Paneer:
Namak Para
If you are not looking for a meal but want to make some crispy, crunchy snacks then you can make Namak Para, savoury diamond-shaped snacks. Usually, the sweet version known as Shankarpali is made in many households for Diwali. But for Bhai Dooj, you can make these savoury treats.
Watch Video of How to Make Namak Para
Rice Kheer
There can be no festive celebration without some sweets. And the basic kheer is a favourite of many. So make the traditional rice kheer, as it is quick to prepare and would be a wonderful dessert too.
Watch Video of How to Make Rice Kheer:
Phirni
If you don't want to prepare the kheer, then you can also opt for Phirni. This creamy milk dessert with an enhanced taste of dry fruits, it will add a bit of richness to this already memorable day of Bhai Dooj.
Watch Video of How to Make Phirni at Home:
We hope the above recipes help you to decide on what to make for Bhai Dooj this year. Impress your relatives with these delicious recipes and we hope you bond over the beautiful feast. We wish you all a very Happy Bhai Dooj.