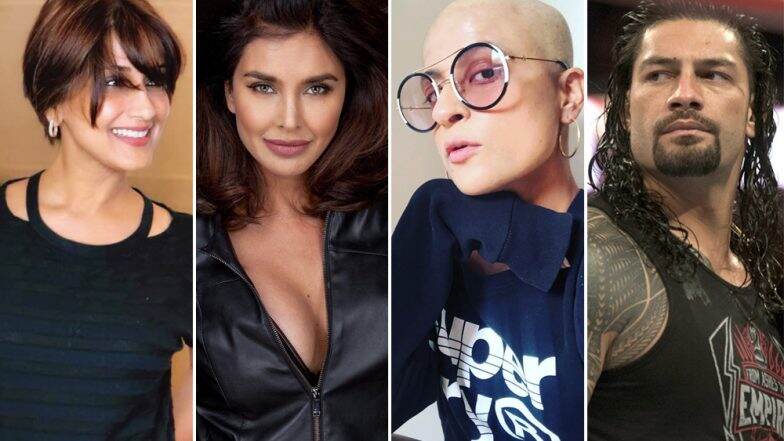 Cancer a term given to a collection of interconnected diseases cause the body cells to divide without stopping, to a fatal extent. One of the most unpredictable diseases, cancer can happen to anyone, anytime and in any part of the body. Many of the celebrities and popular people have also fallen prey to this fatal disease. While many have battled the disease through, some sadly succumbed to it. In the past, we have seen Manisha Koirala's struggle with cancer. She managed to defeat cancer and is now an inspiration to many people. She has said how cancer changed her way of life and how now she has opted for a healthy, organic lifestyle. Similarly, Yuvraj Singh fought cancer and gave hopes to so many. World Cancer Day 2019: Cancer Cure to Become a Reality by the End of This Year? MAJOR Medical Breakthrough Offers Hope to Cancer Survivors.
Here are some of the celebrities that battled or are battling cancer in 2018 and now.
Sonali Bendre
Sonali Bendre is suffering from Metastasis of Cancer. The cancer had metastasised and was a high-grade malignancy. She is going undergoing chemotherapy; however, the actor on Sunday posted a photo and video of her returning to work "after a major sabbatical."
View this post on Instagram
Manohar Parikar
The former defence minister and current Goa's Chief Minister, Manohar Parrikar is suffering from advanced pancreatic cancer. However, he has been currently admitted to the cancer department at the All India Institute of Medical Sciences (AIIMS).
View this post on Instagram
Tahira Kashyap
Ayushmann Khurrana's wife, Tahira Kashyap has recently been detected with detected with Stage 0 breast cancer, which she confirmed on her Instagram as well.
View this post on Instagram
Rakesh Roshan
Actor-filmmaker Rakesh Roshan has been diagnosed with early stage of squamous cell carcinoma, a type of throat cancer, only last month. The squamous cell carcinoma is caused by uncontrolled growth of abnormal cancerous cells in the lining of the throat.
View this post on Instagram
Abby Lee Miller- Last year in April, what was initially thought of as an infection on her spine turned out to be a type of non-Hodgkin's lymphoma called Burkitt lymphoma. The dance coach and choreographer has had cancer ever since.
Roman Reigns
It was only last year when the news of WWE champion Roman Reigns, battling leukaemia had shattered the World Wrestling Entertainment. He was suffering from Leukaemia, a type of cancer which starts in blood-forming tissue, including the bone marrow and the lymphatic system.
View this post on Instagram
Aretha Franklin
Last year, the world lost a legend, Aretha Franklin to advanced pancreatic neuroendocrine cancer at the age of 76.
View this post on Instagram
Lisa Ray
Actress Lisa Ray, who was believed to have successfully battled myeloma (cancer), revealed that she is still living with it. "I was diagnosed with blood cancer which is considered incurable, and I am still living with this condition," said Lisa with a smile on her face.
View this post on Instagram
Irrfan Khan
Last year the news of Irrfan Khan having cancer shocked B-Town. He is suffering from a rare type of cancer of a neuroendocrine tumour.
View this post on Instagram
We have unfortunately also lost many gems due to cancer such as Rasika Joshi, veteran Marathi actor, famous Vinod Khanna who suffered from Advanced Bladder Cancer, Tom Alter who diet due to skin cancer, Aadesh Shrivastava who succumbed to cancer, Veteran Nargis Dutt who lost her life due to Pancreatic Cancer, The First Superstar of Indian Cinema, Rajesh Khanna and Feroz Khan too died of cancer.