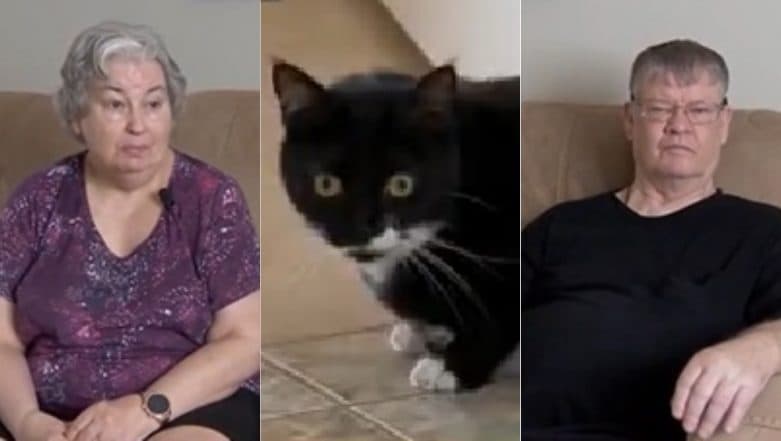 Bella a Florida-based cat just did something super heroic and is receiving extra treats for her bravery. The Florida-based couple, Paul and Leona Jones of Deltona, were saved by the cat's meowing. A report on People states that the cat's cries alerted the couple about the carbon monoxide fumes that were filling their home.
Paul and Leona, who rushed inside their home from a heavy rainstorm, forgot to switch off their car after parking it in the garage. This resulted in the carbon monoxide fumes sprawling across their home. Reportedly, they didn't realise sooner that the car's engine was on and that their home was filling up with the poisonous gas. Not until they heard Bella's cries. According to WLKY, "If she hadn't cried and woken [Paul] up, we would have never known and we would have slept through it and never woken up" quoted Leona. She further admitted that the car ran for about eight hours and "I just didn't hear the engine running and I didn't hit the button," Leona told KFOR.
New York Dog Dies Saving Couple From Massive Fire, Owners in Deep Pain
At 1 am in the morning as Paul woke up to Bella's cries, he pulled the cat from under the bed. However, having inhaled the odourless gas, he collapsed on the bed. Leona then woke up and gathered all her strength to call 911. Soon the firefighters arrived at the scene and gave the couple oxygen and rushed them to the hospital. They were in pretty bad shape on arrival. "He was close to death," Leona said. "I wasn't quite bad, but he was close to death." Thankfully, having suffered some muscle weakness and confusion, Leona and Paul are recuperating. And this is all thanks to their pet cat, Bella. Dog Sacrifices Life to Save His Master From Cobra in Odisha
This is not the first time pet animals have stood up to save their humans from misfortunate events. In the past, we had reported incidents where pet dogs saved their owners from death and sacrificed themselves instead. This could, perhaps, be the first report on how even cats emote and save their humans. Time to break away from the age-old idea that cats are selfish.