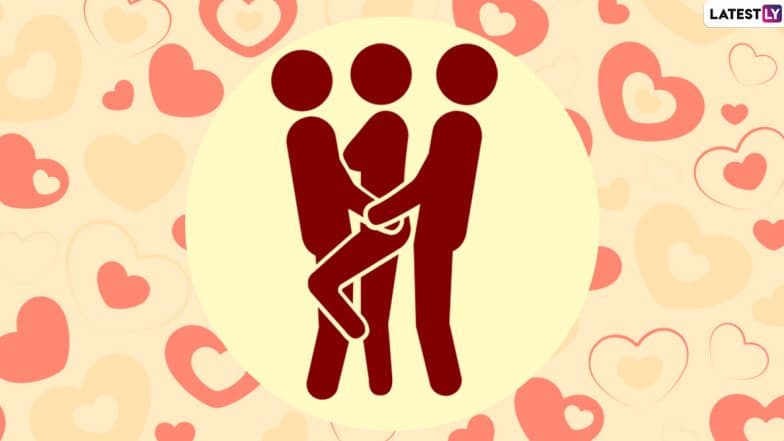 Threesome sex is no less than an adventure. A hot, steamy session involving three people? Don't tell me that you have never wanted that! But if your desire to try it out is based on XXX threesome porn videos, you need a reality check. Adult movies make threesome sex scenes look smooth and natural, but that is not how it works. Another thing that most people miss out is that a lot of planning goes having threesome sex. Right from the partners you choose to sex positions, threesome, also known as the ménage à trois by French people isn't as easy as thrilling it seems. Threesome Sex Facts: 5 Truths About Ménage À Trois That Porn Doesn't Tell You About.
Finding the perfect threesome sex positions is difficult. A lot also depends on the gender combination of the people involved. For example, if there are two women or one man (FFM) or two men and one woman(FMM). Here are some of the best sex positions for a threesome.
The Double Cowgirl (FFM)
In this case, the man lies down on his back and while one woman straddles him on his penis, the second woman sits over the guy's face. The two woman must face each other so that they can kiss each other from time to time. So, in this sex position, one woman rides the man and the other woman receives an oral from the man.
The Bridge(FMM)
In this sex position, the woman kneels and forms a bridge between the two men facing each other. She will be giving a blow job to the first guy, meanwhile, the second guy penetrates her.
Double Trouble (FFM)
The first woman can lie on her back with the other woman lying on her in missionary pose. The guy kneels behind them and alternately penetrates each of them.
The Circle (FMM)
All three people perform oral on each other. They all lay on the same side of their bodies, and contort so that they form a circle together
The Doggy Chain(FFM)
All three of them kneel down in a line with the first and second woman and the man at the end. The man can penetrate the second woman who can, meanwhile give an oral to the first woman.
None of this is of any use without consent, threesome sex requires commitment along  with a yes from all three partners. But once you've received it, you must make the most out of whichever position you choose. You may not want to experiment a lot initially, but later with practice, you'll get better. Also, make sure to not make any of the partners feel left out.