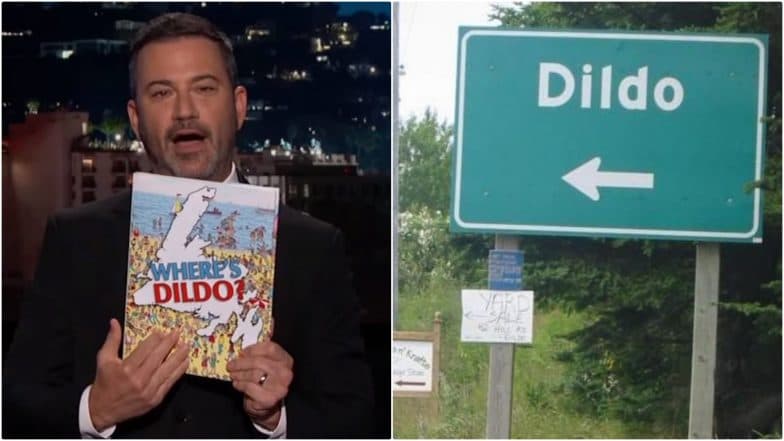 Dildo, a small town in Canada, finally got its first mayor and it is none other than the popular American host, Jimmy Kimmel. After weeks of broadcasting his passion for becoming an official member of the place, Kimmel is finally named as the "honourary mayor" this Thursday night episode. It reportedly will not involve any actual work but an eventual visit of Kimmel to the province.  The announcement has made followers of the Jimmy Kimmel Live! went crazy over the name and little sceptical if such places exist. Several residents and politicians appeared on the late-night show offering the comedian and its viewers a key to the community. Aside from this Canadian town, there are a lot of other places which have funny sex names you might not know. Those who are curious, we have listed down six other sites with suggestive names that will make you laugh hard. Pet Dog Plays With Dildo He Found Inside Neighbours' Package; Owners Embarrassed. 
Watch the Video:
Dildo has been reportedly welcoming visitors since Kimmel began running segments on the place that shares the name with a sex today, stating his intent to become a mayor. The local service district never had one, and Kimmel is the first mayor that the Canadian town has got. The place is located about 60 kilometres west of St. John's and is even familiar to jokes about its name. But the residents are proud in their home town's unique name. Now, let us look at six other places from around the world that weirdly shares suggestive names.
1. Cumbum, Tamil Nadu
Cumbum also spelt as Kambam is a town in Theni district, situated in the western part of Madurai Region in the Indian state of Tamil Nadu. Those sceptical about the name, well it has been derived from a famous temple of Lord Narayana called Cumbaraya Perumal which has been built around the town.
2. Tit, Adrar
Tit is a town in Aoulef District, Adrar Province, situated in south-central Algeria. The place usually has a warm desert climate with sweltering summers and mild winters.
3. Cumming, Georgia
A city in Forsyth County, Georgia, Cumming is a trendy place in the United States of America. Aside from its name, the area is said to attract a lot of tourists for its greenery.
4. Hairy Hill, Alberta
Hairy Hill is a hamlet in Alberta, Canada. The place got its name from the large amount of bison hair found on the hills, when the Canadian Pacific Railway discovered the hamlet in early 20th century.
5. Horneytown, North Carolina
It appears, United States of America has pretty cool names for its towns. Situated at North Carolina, Horneytown was named for the Horney family of early settlers. Because of its unusual name, it has frequently found its way in the global lists.
6. Balls Creek, Nova Scotia
Balls Creek is a community in the Canadian province of Nova Scotia. It has been named after Ingram Ball, a British born officer, who was given a grant bordering on the creek in 1795.
These are some of the places with a very unusual name, which led to its popularity. The weird names even made way to earn free Pornhub premium access to the people living in these places. It is a cool way to celebrate the names, rather than to subject to never-ending mockery.