Mumbai, September 19: The Icelandic carrier Wow Air will fly you out of Delhi to a Europe and US at cheap rates. But there is a catch, you can carry only a personal item, which means it needs to be as small as a laptop bag or an office bag. The passenger won't be able to carry any suitcase that goes into the cabin as a handbag or any check-in bag. In addition to this, passengers won't be served food during the 12-hours flight from Delhi-Iceland's capital Reykjavik and onwards to Chicago, Los Angeles, Washington, Boston, Toronto, London or any of the destinations the airline connects to from its hub. Want to Book Cheaper Flight Tickets? Follow These Simple Tricks for Budget-Friendly Travel.
The airline started this promotional strategy with a pricing which was as low as Rs 13,500, one way. The attractive offer is valid for all bookings made between September 18 to September 28, and valid for travel between December 2018 to March 2019.  For Rs 13,499 per person, passengers can visit destinations like Chicago, Orlando, Newark, Detroit, San Francisco, Baltimore, Boston, Pittsburgh, Los Angeles, Washington DC, St Louis in the US, the airline said in the release.
We at LatestLY checked the website and found that 13,499 per person tickets have been booked, but there are still some cheaper options. For e.g on December 28,  New-Delhi to Reykjavik, the basic fare starts as low as Rs 23,999. This includes the flight ticket and a personal item. For Wow Premium, the price is Rs 60,648, and you get other benefits along with it.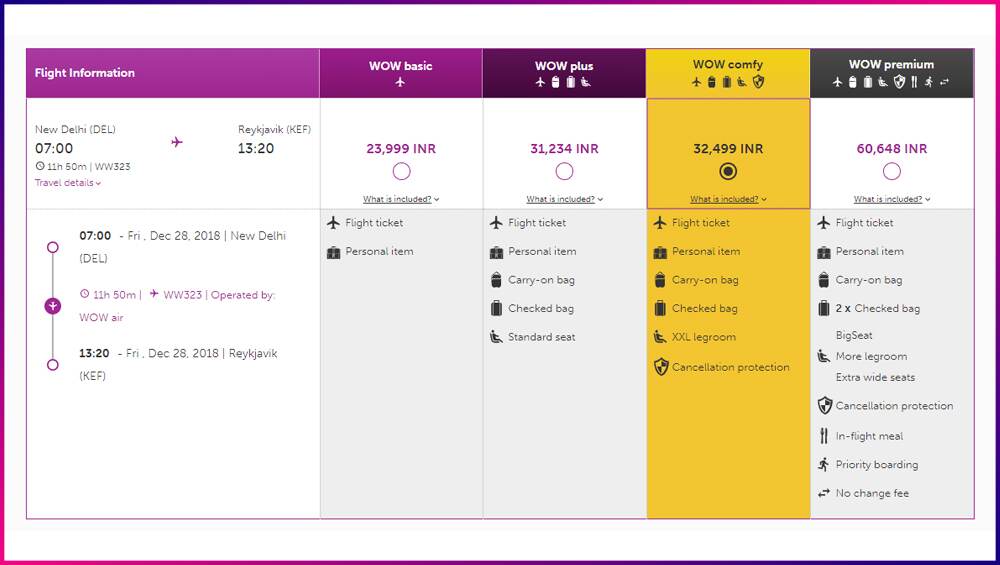 Wow air's Founder and CEO Skuli Mogensen said that they would begin operations from New Delhi in December. He further highlighted that looking at the strong demand, it clearly shows that commuters are looking for affordable travel between India and North America.