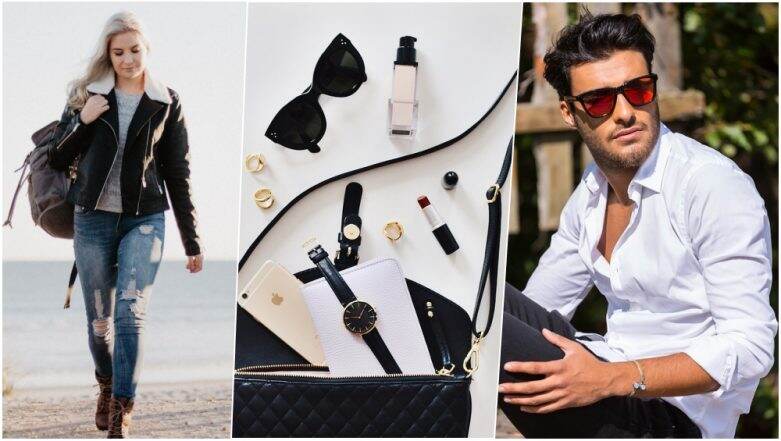 Venturing on a travel plan these days also means deciding on your best outfits, because of course, you are going to click pictures. In the age of wanderlust and travel blogging, clicking pictures wherever you go is a mandate. And if you are more so into fashion then most likely you keep aside the best outfits to then style them on your vacation. If not, fret not because this week we give you some easy styling tips so that you make the best of your vacation pictures. Travel Tip of The Week: 5 Travel Fashion Accessories to Make a Style Statement on The Go.
Easy Holiday Styling Tips for Men and Women
Carry clothes that you can style in more than one ways. Carry longer scarfs which can work as jackets over a plain top and jeans. For men too, there are different ways to tie a scarf which can give a versatile appeal to your outfit.

Carry wrinkle-resistant clothes because not only they are easy to pack but you also don't have to worry about too many creases. Carry clothes in the material of rayon, polyester and nylon.

Do not travel without sunglasses. If you have two glares, carry both. We all know how much better the pictures come when you are wearing your sunglasses.

The new in-thing for vacation packing is athleisure clothing. These are fashionable clothes with comfort. Jerseys, stretch pants and sweatshirt can also be stylish if you carry it well. The athleisure clothes work better for airport looks. They are good for long haul journeys.

Fix upon a colour scheme depending on the place you are travelling. Try and carry brighter clothes for better contrast in the pictures. If neutral is your style, then you can experiment with plains too. Or you can opt for stripes and polka dots.

Girls, if you are heading for a beach vacation then invest some in a good swimwear. Pick nice colours and patterns. But also be careful that you feel comfortable in them.

While girls have a lot of styling options with jewellery and accessories, men can experiment with socks. Do not be under the impression that your socks won't be seen in shoes. If heading to a cold place, then you can flaunt socks as an accessory.

One of the best ways to make the best of your fashion and styling is clicking great flatlay of your outfits. Decide on your entire look and place them well on your hotel bedsheet. Carry earrings, bracelets and complimenting accessories for a better flatlay. Check some pictures online and you can try creating your travel style work well on Instagram.
These are some of the fashion and styling tips which will ensure your OOTDs or OOTNs are on point. It is always good to plan your wardrobe in advance so you don't have to fret last minute with your travel shopping. Hope you have a stylish vacation ahead!