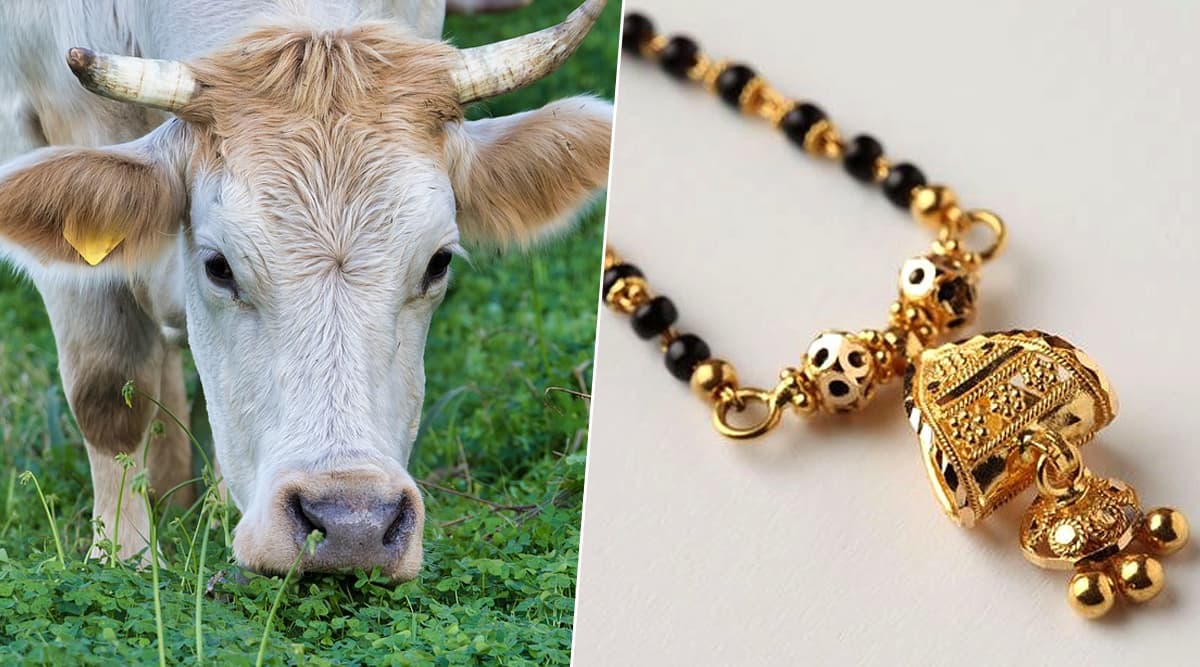 In a bizarre incident, a farmer's bull swallowed a gold mangalsutra worth Rs 1.5 lakh. The festive occasion of Bail Pola, on which farmers worship their cattle, turned tragic for a farmer named Baburao Shinde, when his wife's mangalsutra (gold chain) was swallowed by the bull. The incident took place in the Raitey Waghapur village of Ahmednagar district. After trying to find it in the dung for a week, Baburao then had to go the vet to recover it. The veterinary doctor operated on the farm animal and found the mangalsutra intact in the reticulum area! Madhya Pradesh: Thief Swallows Mangalsutra to Mislead Police, Cops Put Him Through Surgery to Retrieve it.
The festival of Bail Pola was celebrated at the end of August this year. On this day, farmers decorate their farm animals, perform a puja and offer them with with sweets. It is a day of expressing thankfulness to the cattle for working hard in the field. As per the report in Dainik Bhaskar, during one of the traditions, a gold ornament is touched on the forehead of the cattle to bless them. Baburao's wife was performing the pooja and left her mangalsutra in the same plate which also had sweet gram chapatis. The bull was supposed to be fed them later. As there was a powercut, the woman went inside to fetch the candle.
When she came out, she realised the plate was empty and her chain was missing too. She immediately told Baburao who tried to find it in the mouth of both his bulls. When they could not find anything, the family decided to try the conventional approach, of looking for the chain in the dung. They even kept the dung in their compound for any chance of the gold chain, passing through the digestive system.
Finally, Baburao Shinde decided to visit the vet and seek his advice. Dr Nene tried to locate the mangalsutra with a metal detector. The bull had to then be taken to the Narayan gaon veterinary hospital for surgery. The operation took place on September 8 and the doctors found the gold chain in the reticulum region. The bull is recovering and is advised to rest for a month or two. Thankfully, the family too has recovered the precious piece of jewellery.