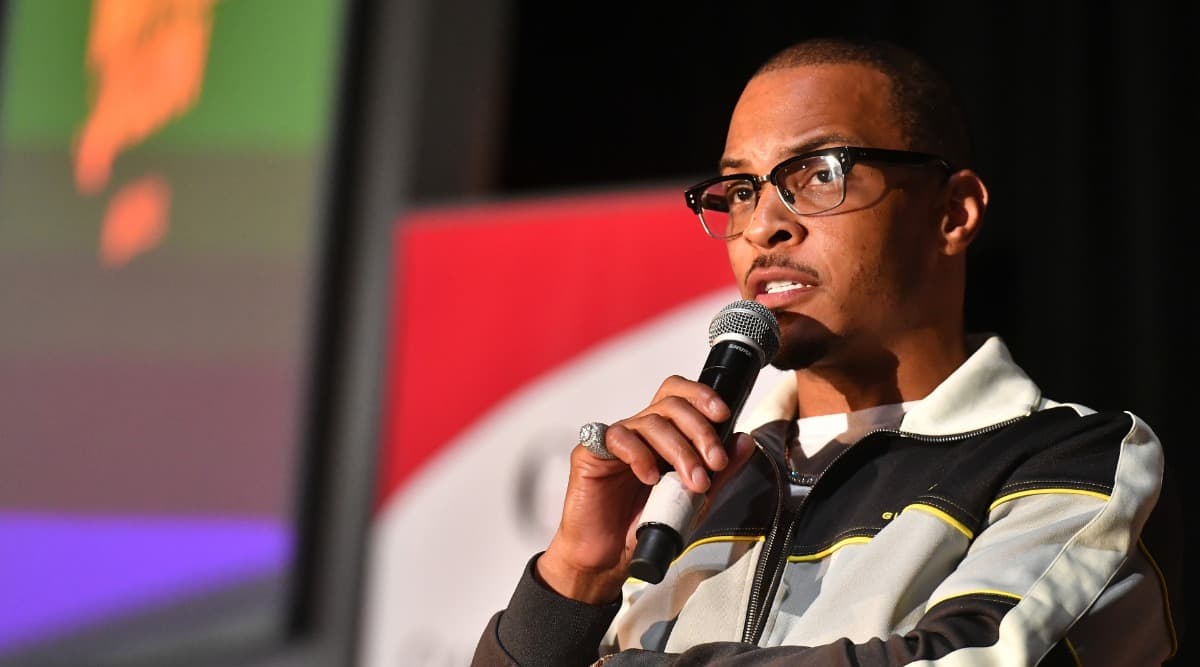 American rapper T.I. has stirred talks online by admitting that he takes his 18-year-old daughter to the gynaecologist every year to ensure she is a virgin. Clifford Joseph Harris Jr who is professionally known as T.I. and Tip said he accompanies his daughter to the doctor to "check her hymen" is still intact. In an interview on Ladies Like Us with Nazanin Mandi and Nadia Moham on Tuesday, T.I. offered a bizarre answer when asked if he's had the "sex talk" with his teenage daughter, Deyjah Harris. T.I.'s statement was quick to go viral on social media attracting criticisms. People ridiculed the rapper's gynaecologist ritual calling it regressive. What is A Virginity Test? How These Controversial Tests Determine Female (Not Male) Chastity.
The US rapper made the statement in an interview on Ladies Like Us with Nazanin Mandi and Nadia Moham on Tuesday when asked if he's had the "sex talk" with his teenage daughter, Deyjah Harris. The 39-year-old said, "Not only have we had the conversation. We have yearly trips to the gynaecologist to check her hymen. Yes, I go with her." He added that the routine began after his daughter turned 16 and started attending her first year of college. After her 16th birthday party T.I. revealed that he "put a sticky note on the door" which said "Gyno Tomorrow: 9:30."  Virgin Policewoman Only! Indonesian Female Officers Subjected to Two-Finger Virginity Test and Are Expected to Be 'Pretty' for Recruitment.
Here's How Twitterati Reacted to the US Rapper's Statement:
A virgin is someone who's never had sex. But "sex" means different things to different people, so "virginity" does too. Many don't care what it means or think it matters. Whatever you believe, the fact is you can't tell if someone's had sex by checking their hymen.

— Planned Parenthood (@PPFA) November 6, 2019
Many Termed It a Terrible Practise:
This is disgusting and horrible.

Rapper T.I. says that he takes his daughter to the gynecologist to make sure her hymen is still intact!

Even after her 18th birthday (not that it makes it ok before her 18th birthday)

Horrifying https://t.co/hQwSSsqJER pic.twitter.com/59rSMTDKfz

— Yashar Ali 🐘 (@yashar) November 6, 2019
People Questioned The Rapper's Parenting:
T.I. is disgusting to discuss his daughters sex life

Then to have the double standard of being ok with your 15 year old son having sex. And like, are you gonna beat her ass if she did?

And this feels like that "I didn't want a daughter bc I treated women like trash" bs.

— George M Johnson (@IamGMJohnson) November 6, 2019
T.I. said, "So we'll go and sit down and the doctor comes and talk, and the doctor's maintaining a high level of professionalism. He's like, 'You know, sir, I have to, in order to share information'—I'm like, 'Deyjah, they want you to sign this so we can share information. Is there anything you would not want me to know? See, Doc? Ain't no problem.'" She added, "I will say, as of her 18th birthday, her hymen is still intact."
Check Out The Tweet Below:
i guess when T.I. sang "live your life" that didn't apply to everyone

— Miles Klee (@MilesKlee) November 6, 2019
T.I. also said that he is aware that an intact hymen doesn't indicate a woman is a virgin as it could also break due to other activities. Explaining which he said,  "So I say, 'Look, Doc, she don't ride no horses, she doesn't ride no bike, she don't play no sports. Just check the hymen, please, and give me back my results expeditiously.'"