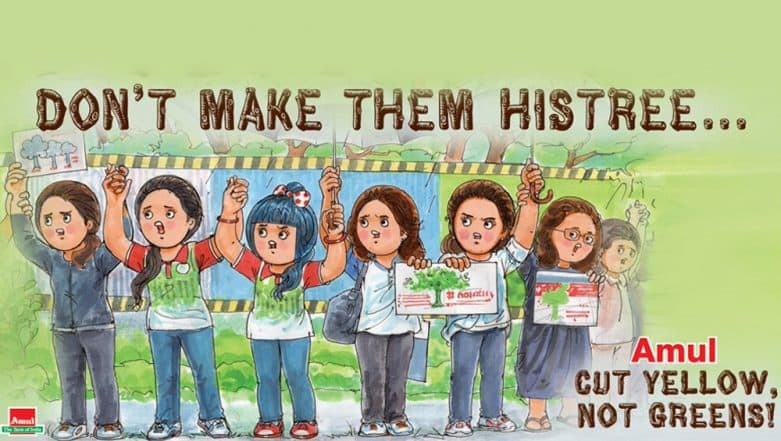 Mumbai has come together against the Mumbai Metrorail Corporation Limited (MMRCL) approval to cut down around 2,702 trees in Aarey Colony of Mumbai. The deforestation is taking place for a metro 3-car shed to be made. BMC tree authority's approval is being shamed all across the country. People are criticising the decision and some of them went ahead to form a human chain in protest. Shraddha Kapoor also joined the protest and was seen standing in the rain holding a placard. She also took to Instagram to share a post talking about the deforestation issue. Right from activists to celebrities, everyone is against the decision. Even legend Lata Mangeshkar took to Twitter to say that, "To cut down 2700 trees and invade the natural habitat for so many species would be a tragedy. I firmly oppose this move and I earnestly request the government to look into this matter and save the forest.#SaveAareyForest."Aarey Deforestation: Shraddha Kapoor Joins the Human Chain, Other Celebs Take to Social Media to Show Their Protest.
The most recent Amul's Topical appeals against the cutting of Aarey Forest. Their message reads, "#Amul Topical: Appeal against proposed cutting of 2700 trees in Aarey Colony, Mumbai."
Check Tweet:
#Amul Topical: Appeal against proposed cutting of 2700 trees in Aarey Colony, Mumbai.. pic.twitter.com/oqkslT4dbq

— Amul.coop (@Amul_Coop) September 4, 2019
However, the authorities have said that if they cut the tree they will make sure to plant more trees to not contribute to the destruction of the environment. In fact, a senior civic official said Mumbai Metro Rail Corporation (MMRCL), which is constructing the Metro, promised to compensate by planting three times as many trees elsewhere in the city. Last year, the Supreme Court had rejected an application by activist Amrita Bhattacharjee who had challenged the construction of Mumbai Metro III Bus Depot on the grounds that the construction would drastically impact the area known as the green lung in Mumbai.