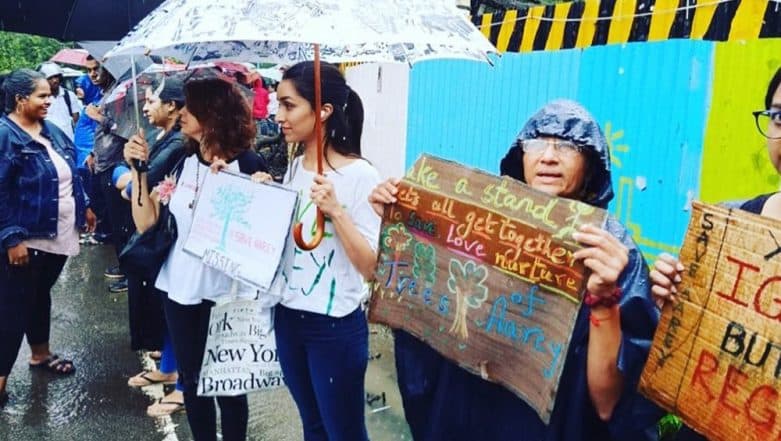 The Mumbai Metrorail Corporation Limited recently got approval to cut down around 2,702 trees in order to build a metro 3-car shed in Aarey Colony of Mumbai. The approval, given by BMC tree authority, has been widely criticised by people who showed their opposition for the decision by forming a human chain in order to protest the cutting of trees on September 1. The human chain was also joined by Saaho actress Shraddha Kapoor also joined the protest and was seen standing in the rain holding a placard. She also took to Instagram to share a post talking about the deforestation issue.
Sharing a post on her Instagram, Shraddha wrote," Trying to do my bit. Went live on my insta sometime back to show you all how so many people have come together to stand up against this. 2700+ trees are slated to be chopped down for the Metro. Unacceptable. Shocking. As if we don't have enough environmental issues already. As if Mumbai doesn't have enough pollution already. And permission is granted to chop off the lungs of the city. This HAS TO STOP."
Apart from Shraddha, several other celebrities also took to social media to share their views on Aarey deforestation. Check out these posts from Bollywood celebs on the same.
Shraddha Kapoor:
Dia Mirza:
Not against the #Metro. Please build it. But not at the cost of disrupting an ecological system that provides invaluable human services.ALTERNATIVES for the car shed EXIST. It may take more time. But choose better! STOP MASSACRE OF #AAREYFOREST 🙏🏻 @CMOMaharashtra @Dev_Fadnavis

— Dia Mirza (@deespeak) September 1, 2019
Raveena Tandon:
#SaveAareyForest Shocking that we are letting this happen. Why are the citizens voices not being heard??? pic.twitter.com/jKLXbSRtEN

— Raveena Tandon (@TandonRaveena) September 1, 2019
Esha Gupta:
Been too aloof, but for educated about Aarey colony. So, in a world where we already seeing the repercussions of humans ego(amazon fire), Mumbai's Aarey colony is set to lose 2646 trees for metro shed..such egoistic we are getting to not care about our planet? We NEED EARTH

— Esha Gupta (@eshagupta2811) August 30, 2019
It was earlier reported that the BMC received as many as 82,0900 complaints against the decision. With Mumbaikars showing their protest for the same, it will be interesting to see if the decision is reconsidered.