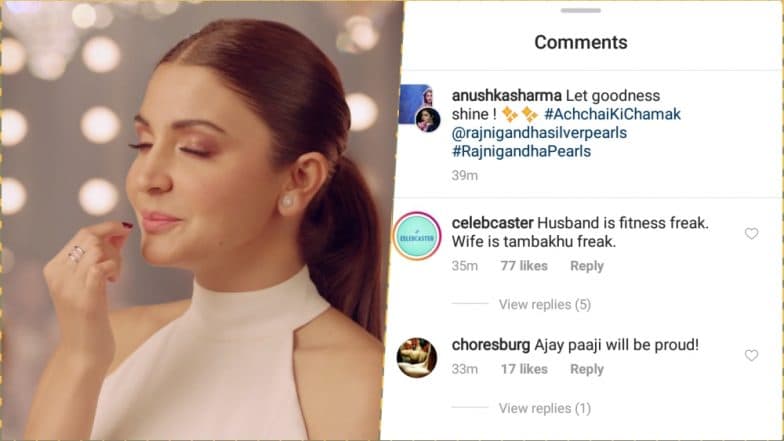 Be it film stars, sports icons, politicians or industrialists, no public figure is immune to Internet trolling. Bollywood actress Anushka Sharma is one star who continually faces the wrath of online trolls. The reasons could be as dumb as her cricketer husband, Virat Kohli, failing to perform on the field or her movies failing at the box office. But the recent episode takes the cake. Anushka shared a video of Rajnigandha Silver Pearls TVC featuring her as a part of brand promotion. Well, this has not gone down too well with her fans and followers who are calling Anushka 'Gutkha Khor'! Pierce Brosnan Claims Was "Cheated" By Indian Pan Masala Brand!
On Monday, the Zero actress announced her association with the new brand, Rajnigandha by posting a TVC featuring her as their brand ambassador. Anushka writes, "Let goodness shine! ✨✨ #AchchaiKiChamak @rajnigandhasilverpearls #RajnigandhaPearls" The advertisement is very well-conceptualised. The TVC shows Anushka walking the ramp as a showstopper with two other models. She is shown saving one of them from an embarrassing wardrobe malfunction. The ad ends with everyone praising Anushka for her kind and thoughtful gesture backstage. After which, she removes Rajnigandha Silver Pearls and pops few in her mouth as Rajnigandha's signature song "Dil Bada To Tu Bada" plays in the background.
Anushka Sharma Shared Post on Rajnigandha Silver Pearls 
The ad is nice. Its concept is nice. Anushka looks great. So, where is the need for trolling? Well, it is because of the brand Anushka has associated with. Rajnigandha is the world's largest selling premium Pan Masala brand. However, fancy it might be, people associate Rajnigandha with gutkha and tobacco. Gutka or guṭkha is a sweetened mixture of chewing tobacco, betel nut, and palm nut, originating in India as a breath freshener. In the ad, despite it clearly showing Anushka consuming and promoting silver-coated elaichi (cardamom), the trolls are not convinced and are bashing up the actress for her 'irresponsible' act.
Some of the comments read, "Husband is fitness freak. Wife is tambakhu freak." Another user commented, "Ajay Paaji will be proud," in reference to Bollywood actor, Ajay Devgn being the brand ambassador of Vimal pan masala. A concerned fan writes, "U r stunning in dis advt ,, being a well wisher u shouldn't work for these cheap materials 🤐." A user outrightly questions Anushka's morals behind signing a 'pan masala' brand ad, "Paise do to ye tambakhu ki add kar de 😂😂😂 i think sunny leone ki add bhi ja sakti he jada paise mile to anushka ke pas 😂😂."
Watch Video of Anushka Sharma in Rajnigandha Silver Pearls TVC
It is both hilarious and annoying to see the internet react the way it is on Anushka's post. Because clearly, the 30-year-old is not promoting pan masala or tobacco but elaichi, a favourite mouth freshener in the country.