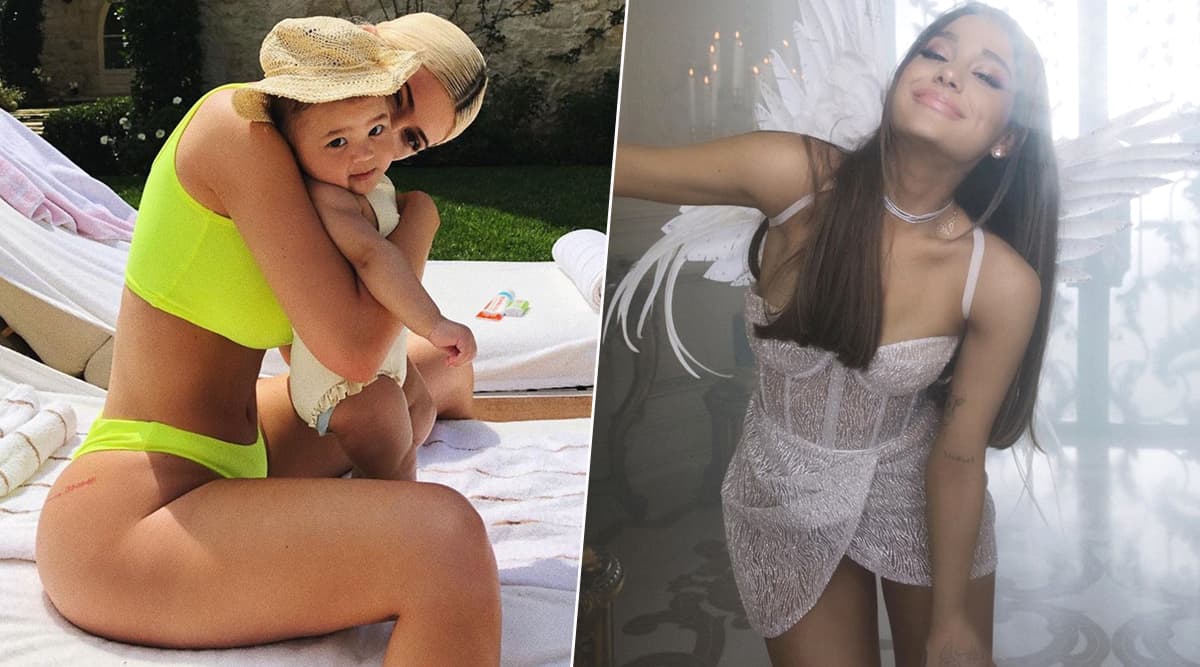 Kylie Jenner is a great singer apart from being a tonne of other things. She recently hummed a tune with lyrics "Rise and Shine" for Stormi end of her 16-minute tour of the Kylie Cosmetics office YouTube video. And ever since that bit has gone viral people are legit using the tune as their alarm tone. For all the right reasons the song is stuck in people's head and some of them are also calling it Kylie Jenner's first single (not official of course. However, things became even more exciting after Ariana Grande shared a story video of her singing the same song and considering using it for a song. On her Instagram Story she asked Kylie, "can I sample", and Twitter has gone crazy ever since.
People are totally loving this new version of song sung by Kylie Jenner. Who knew we could talk about Kylie Jenner's music video with Ariana Grande? Seriously mind=blown! Kylie Jenner sang the three-word oneliner in a video made for an entirely different reason and now Ariana Grande is considering turning it into a music video, how awesome is that?
When Ari shared her Instagram story post singing the phrase, kylie Jenner replied affirmative but under one condition. She said that she would surely let her sample, if she featured in the music video too. You have to take a look at Ariana Grande's cover of Kylie Jenner's viral "Rise and Shine" song:
NOT ARIANA DOING THE KYLIE SINGING SHSKSDHKDJDJD pic.twitter.com/ozTCyQ26XZ

— isabella (@vminsrem) October 16, 2019
Take a look at some of the amazing reactions the video received on Twitter:
Sleep paralysis but it's Kylie Jenner singing rise and shine

— lil level up 👻 (@levelupdub) October 15, 2019
Really!
cultural impact:

█

█

█

█  _

Kylie Jenner: The Beatles

ᴿⁱˢᵉ ᵃⁿᵈ ˢʰⁱⁿᵉ

— natalie🦋 (@natcarmichael_) October 14, 2019
Loving It
testing out my custom kylie jenner rise and shine alarm ringtone pic.twitter.com/qrxyXTYe3T

— K.S.C (@somvorna) October 15, 2019
Let's take a look at the YouTube video that paved the way for the whole idea (Check for 15:25) :
A little bit of Googling landed us to this Rise and Shine by Dr Jean video having a nursery rhyme which probably Kylie Jenner was trying to sing but in the most epic way of course:
While there is no official confirmation for any music video having a collab between Ariana Grande and Kylie Jenner, we would surely love to see one. What say?!