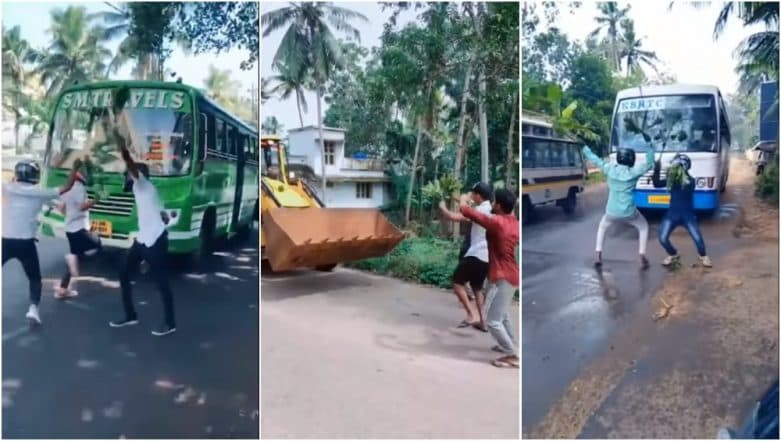 Tiktok and Musical.ly videos are causing more trouble than expected. After Kiki challenge went viral creating trouble for police here, yet another internet challenge is giving law enforcers sleepless nights. Malayalam playback singer Jassie Gift's song Nillu Nillu for a 2004 movie Rain Rain Come Again was longtime forgotten. Youngsters are now jumping in front of moving vehicles with leaves and branches in their hand.
Videos going viral on social media shows guys stopping public transport mostly, KSRTC bus while wearing helmets and dancing to the song. After a few seconds, they run away letting the vehicle go. The challenge was also attempted by actor Vishnu Unnikrishnan by posting a video from his film Kattappanayile Rithwik Roshan. However, considering the challenge of being a public nuisance, Kerala Police have posted a warning on their social media handles discouraging people from doing so. KiKi challenge Role Reversal: Courts Asks Three Men Who Performed Stunt on Moving Mumbai Local Train to Make Awareness Video.
Here is a compilation Tiktok videos of youngsters attempting Nillu Nillu challenge on the road:
Here is the tweet by Kerala Police:
അപകടങ്ങൾക്കു കാരണമാകും അപകടങ്ങൾ ക്ഷണിച്ചു വരുത്തരുത്;

അപായകരമായ അനുകരണങ്ങൾ വേണ്ട.

നില്ല് നില്ല് എൻ്റെ നീലകുയിലെ എന്ന ഗാനം Ticktok ൽ ബാക്ഗ്രൗണ്ടാക്കി ഓടി വരുന്ന വാഹനത്തിന് മുന്നിലേക്ക് എടുത്തു ചാടി നൃത്തം ചെയ്യുകയെന്നത് അപകടങ്ങൾക്കു കാരണമാകും pic.twitter.com/sJpmQ6vsAt

— Kerala Police (@TheKeralaPolice) November 25, 2018
These apps have become quite popular in the past with people creating videos. They are spread across platforms like Facebook, Twitter and WhatsApp. The word  Nillu means 'stop' in Malayalam and hence the video makers are trying to stop vehicles while singing the song. Such incidents could result in roadblocks, the police have warned. As Kiki challenge stirred a storm on social media, different city police had issued similar warnings asking people to not attempt it in public places. Few arrests were also made in the incident with the accused being asked to make videos raising awareness against doing it.