On the first day of 2019, lakhs of women in Kerala came together to form a human chain stressing at gender equality as the controversy around Sabarimala temple continued. Called Vanitha Mathil (Women's Wall) over 35 lakh women stood next to each other forming a 620 km-long human wall. As talks about the historic wall continue, a photo of a mother holding her six-month-old baby has become the face of the historic wall.
On Tuesday, women stood head high from the northern end of Kasaragod to Kerala's southern tip stood together as protests were witnessed in some areas against it. The photo of Athira Athu holding her daughter with one hand, fist high in the air shouting slogan, leading a group of women in Malappuram has been widely on Facebook. The photo was quick to go viral with people praising Athira and all the women who courageously stood against patriarchial forces. Sabarimala Temple Row: Lakhs to Form 620 KM Long 'Women's Wall' in Kerala.
Here is the photo of Athira that has become the face of Kerala's Vanitha Mathil: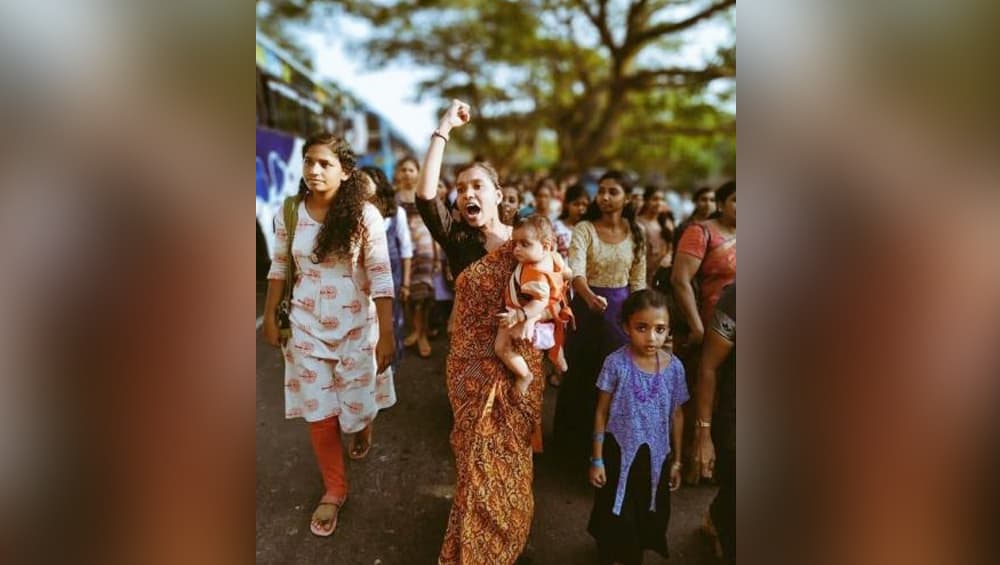 The News Minute reported that Athira is the district committee member of Democratic Youth Federation of India (DYFI). According to the reported, someone was holding her daughter Dhulia Malhar, but the six-month-old began to cry. They handed the baby to Athira but that did not stop her from participating in the event. Holding her baby in one hand, Athira continued to walk ahead when her photo was clicked. History of Sabarimala: Why Women Weren't Allowed Into The Lord Ayyappa Shrine.
The report quoted Athira as saying, "But I don't want this attention. It's basically the success of the Vanitha Mathil. And mine is a picture showing that success, nothing more." Athira's phone was broken, so she did not know about the fame she achieved on social media. She also said that she was happy two women could enter the Sabarimala temple.
Watch the video of Athira participating in the event:
She said, "'The Constitution accepts gender equality and circumstances that allow that should be created. The idea that menstruation means impurity should be kept away." Athira's baby is named after an old raga in the Indian classical music as she wanted a secular name for her daughter. Her husband's name is Jiji Mohan. Athira was a college professor and is currently on a break to take care of her child.