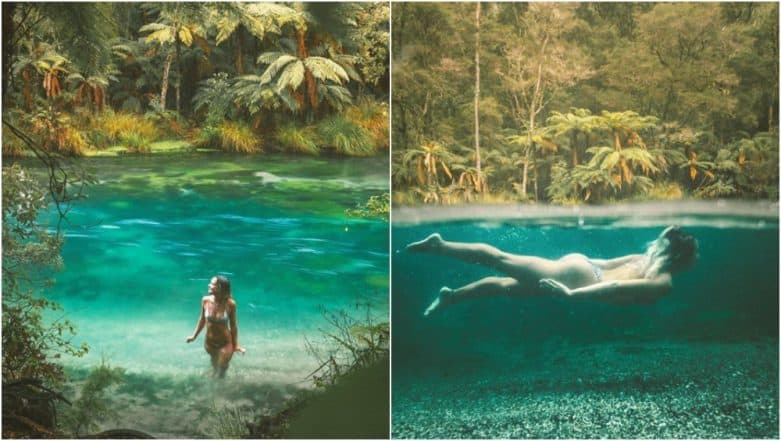 An Instagram model has received the ire of social media users for posting photos of her wading through sacred water where swimming is banned. Australian couple Cleo Codrington and Mitch Cox were travelling around New Zealand this month from where they posted the photos. The pictures show Cleo wading through pristine blue-coloured clear water amidst lush greenery. While Cleo had not geotagged the location, social users claimed that it was New Zealand's Blue Springs, where swimming is banned.
As the pictures went viral criticisms began to pour in. One of the comments read, "So sad to see you posting a photo of the Blue Springs, Putaruru. Not only are you swimming somewhere that is taonga (treasure) but you're posting it on social media- encouraging others to do the same. Learn to respect the whenua of Aotearoa (family of New Zealand)!" The Risks Behind Perfect Instagram Pictures! 5 Instabloggers Including Kelly and Kody Who Got Slammed For Going Overboard With Their Photos.
Here are the pictures that caused social media outrage:
View this post on Instagram
However, the couple rubbished the claims and said that it was a completely different river. Mitch Cox told NZ Herald that they were at Tarawera Falls which is more than 120km away from Blue Springs. The couple said they had not purposely geo-tagged the location as they did not want to encourage the place to be flooded by tourists.
Follow the outrage, Cleo took to Instagram explaining that she had not violated any rules or laws. She writes, "This IS NOT Blue Springs, but a completely unrelated river system and area in NZ, and yes, the locals and owners said we could swim!" Chinese Artist Slammed for Clicking Nudes with Dad's Skeleton! Says 'It's the Closest I've Felt with Him' (View Pic)
Check out the post below:
In 2016, Blue Springs in North Island near Putāruru, which was closed to swimmers in 2016 to protect it over tourism. The place had been receiving a lot of visitors affecting is vegetation and riverbed. It is also a source of water for a number of bottling companies. In fact, 70 per cent of the water bottled in New Zealand comes from the area.