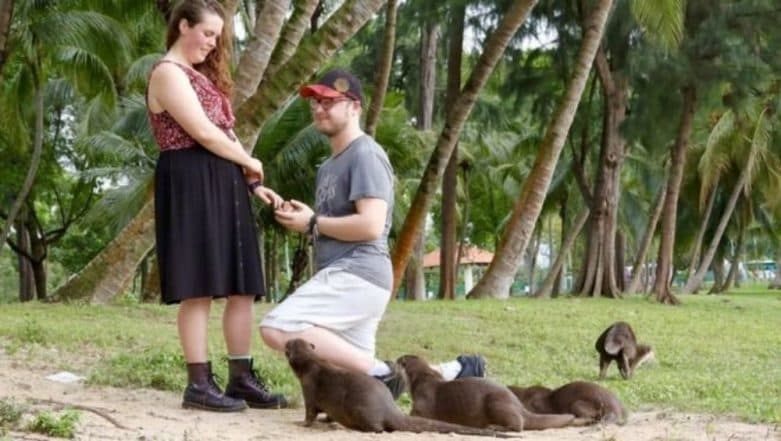 A marriage proposal is one of the most precious moments for any couple. Going the next big step in a relationship, the moment is a cherished one by both the partners. And today it is the age of photographs where every moment is captured and preserved well. But imagine someone photobombing your special moment! One would be so irritated and probably shout back at the photobomber, except when its a couple of otters. A couple from the UK had Singapore's famous urban otters in their picture when they were having their precious moment of a marriage proposal! The picture is going viral with its cuteness on social media. Wedding Albums of Russian Couples with Photoshopped Pictures Are Not Real but Funny. 
Jordan Doyle and Mary Lister were out for an otter-watching exploration accompanied by a wildlife photographer. Mr Doyle had planned this surprise for his girlfriend since she is a huge fan of otters. And it became even more special for her when the otters did not mind posing in their romantic moment! Talking about the incident, photographer Bernard Seah told the BBC, "When I asked them to pose for a photo, the otters came out of the water and approached the couple." It definitely became more special for the couple.
Take a Look at Otters Photobombing a UK Couple's Marriage Proposal
#MorningAddiction Singapore's famous urban otters have delighted two British otter fans by photobombing their marriage proposal. Jordan Doyle and Mary Lister had gone out otter-watching with a wildlife photographer when the animals appeared.#AroundTheWorld pic.twitter.com/FrzRLjcjGz

— 91.2 Crooze Fm (@912CroozeFM) November 21, 2018
The couple were in a group at the Marina Reservoir and had approached Mr Seah to help them show around the otters. They were away from the group for a while after which Mr Doyle decided to pop the question. He had been carrying a ring and thought this would be the right time. With Mary's favourite animals too in the picture, we are sure there couldn't have been a better timing. Mr Doyle said, "the otters were there for "around three minutes" and were "sniffing us so we had to stay very still". Check Some List of Unique Marriage Proposals. 
Although it is not very uncommon of otters to come near the humans, they do not stay around for more than a few seconds. But the couple sure got lucky to have them around making their moment remarkable. This will go in their photobooks as Mr Doyle said.