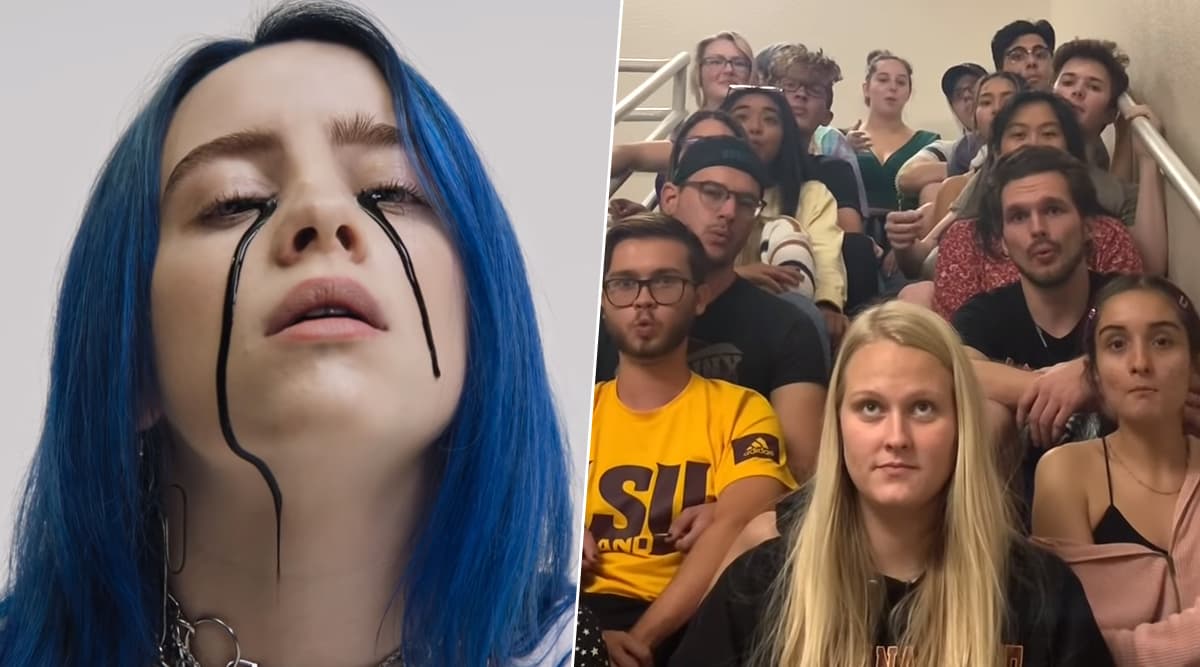 Teenage pop stars are not new these days, but finding a 17-year-old singer-songwriter with much poise and prose is most rare. Billie Eilish is a born star. In her albeit brief musical career when she released her debut single "Ocean Eyes" in 2016, Eilish has managed to set fire to whatever pop star playbooks that still exist. She has carved out a career in her own terms and achieved loyal fanbase in the process. And a recent video showing Arizona University students' Cappella mashup of Eilish's popular hits "I Don't Wanna Be You Anymore" and "When The Party's Over" will accurately blow your mind. The video showing the youngsters' latest version has so far gained more than 4 million views on YouTube. Backstreet Boys 'I Want It That Way' Was Sung Beautifully by 1,500 Drunk Strangers & They Nailed It! Watch Video of the Majestic Moment. 
The college group, calls itself "The Devil Clefs" and they are insanely going viral on social media for its rendition of two Eilish's popular songs. The video has been posted in the last week of October and features 17 college students crooning in Eilish's haunting hits. Their beautiful rendition will give goosebumps.
Watch the Video:
As the video achieved massive attention, the Devil Clefs were called for an interview to Good Morning America. The President and ASU junior of the group, Alexa Siegler reported that they only practised for about 15 minutes before filming the video in the stairwell of the school's music building. "We like singing, we like performing, and we like performing together … It's so surreal to see our group get so much hype and so much buzz on social media," Siegler said in the same interview.
Here's the Original Song Eilish's "I Don't Wanna Be You Anymore":
One of the group members reportedly created the arrangement herself. The 18-member group chose the location because of the excellent acoustics.
Here's the Original Song Eilish's "When The Party's Over":
Devil Clefs got social media attention when they had an unexpected collaboration on TikTok. During a campus concert hosted by the video-sharing app, where the group was performing, the social media sensation, Josette Pimenta, took a video with them and gave them a shout-out! Ever since then, there was no looking back! Internet showered love to the college students.