Should I be spooked seeing Blake Lively's Instagram account because just two days ago I had bookmarked the page after an-hour of admiring super-fancy fashionable photo posts? If you're wondering what's the brouhaha over the Instagram page of Blake Lively, you certainly are living under a rock. The 30-year-old Gossip Girl actress had deleted every single post on Instagram including her display picture. Yes, not even one image. There is more rude shock in store for her 20.4 million followers on Instagram - Blake Lively has also unfollowed her husband and actor Ryan Reynolds! Yes, that's true. Does this mean there's a breakup on the cards for another Hollywood couple or has Blake's account being hacked by some online miscreant? There is some mystery and allow us to reveal it to you all.
Nobody could have freaked out more than me to see Blake Lively's zilch Insta page but in such mind-boggling situations, you got to use the grey cells a bit more. Did you notice the little description on the page that has also been altered to a message: What happened to Emily?... Err, what the hell is this all about now? The mystery deepens when you click to check the 28 followers (at the time of posting this article) to be all Emily Nelsons.
Yes, in fact, one Emily Nelson whom Blake suddenly started following tweeted with the screenshot of All I See Is You actress page writing, "does anyone want to tell me why Blake Lively followed me and had this as a bio. Goodbye cruel world some hacker is anti-Emily, my time has come :-)" Too many questions and too little answers, not fair. Well, time to sit back and get all your doubts cleared.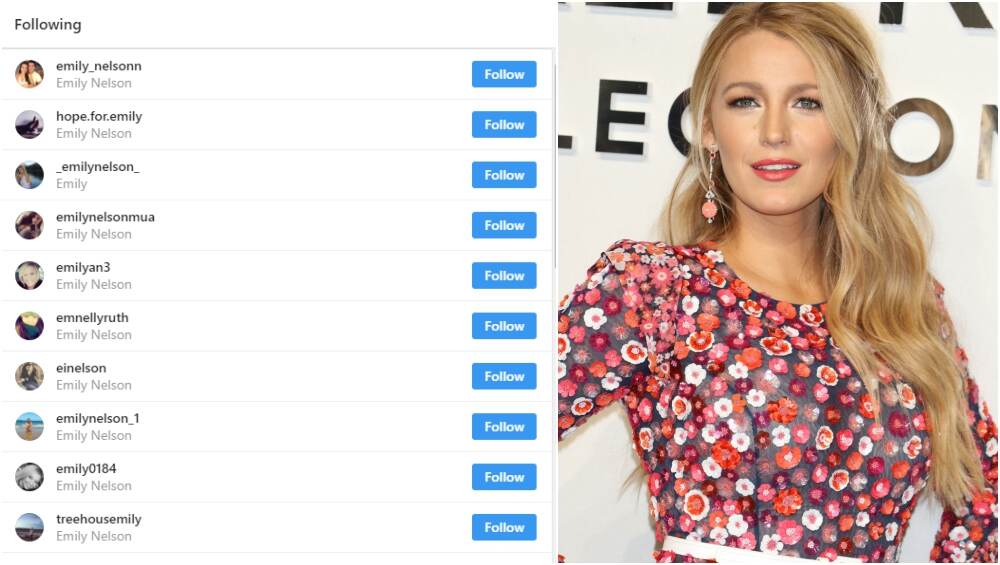 The complete mayhem on Blake Lively's Instagram account is a part of a promotional campaign for her upcoming film titled A Simple Favor. It is a mystery-thriller film directed by Paul Feig based on author Darcey Bell's novel of the same name. The film which is going to release on September 14 this year stars Anna Kendrick alongside Blake Lively. In fact, the latter plays the role of Kendrick's character's best friend named Emily Nelson who has mysteriously disappeared.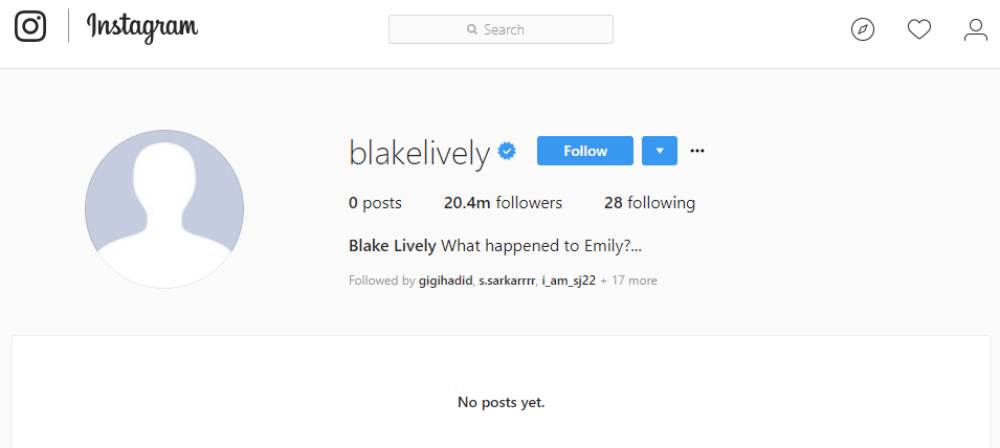 Here's the premise of A Simple Favor: A Simple Favor centres on three small-town characters: a mom blogger (Anna Kendrick), her best friend (Blake Lively) who disappears suddenly and the latter's husband (Henry Golding). The story includes betrayals and reversals, a dead body and the revolving question of who is duping whom.
Well, well then. The mystery is solved. In fact, we kind of always thought Ryan Reynolds to be the crazier one considering he portrayed Deadpool between them. But after seeing Blake pull off such a heart-stopping stint, we would like to crown her with the title of being an absolute daredevil and crazy one between the two. Her promotional activity may have got Emily Nelsons worldwide the joy of their lives, but it definitely shocked us to the core. Btw, can I change my name to Emily Nelson?