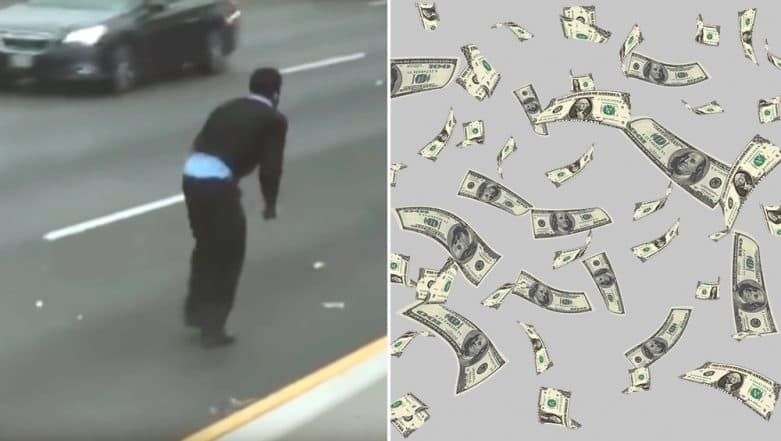 Money is always attractive, especially when you are getting it for free. So when a Brink truck dropped off money on its way in New Jersey due to a technical glitch, there were accidents on the way because several people stopped and got down to collect the cash. But in all the money that lost about $6,000 was returned too. The incident took place at 8.30 am on Route 3 in East Rutherford, near the Meadowlands. The door of the truck malfunctioned and opened, thus money bills of  $100, $20 and $50 were flying out. A video of the incident has been shared on social media. Truck Carrying 40,000 Pounds of Chicken Feathers Crashes & Spills in Seattle's Highway, View Pics. 
With hard cash freely available on the roads, people were all ready to grab the opportunity, or rather the money. Drivers stopped midway and ran to collect the money bills. Two vehicles crashed as the usually busy street had cars stopping in the way. The chaos left cars crashing but thankfully no one was injured. The driver of the bus was struggling in the oncoming traffic to collect some of the cash that was scattered on the road. One of the persons got down and helped him to collect the cash. He picked up some money and handed it to the driver but left immediately. Man Drives Truck for 65 Kilometers With 3000 Lose Bees Inside, Takes a Video and Jokes About It! 
Watch Video: Brinks Truck Spills Cash on the Way, Causes Car Crashes
The East Rutherford police have also said that anyone who has collected the cash from the road should get in touch and return it. They ensured no charges would be filed against the people. Although some of the people collected the cash and fled the scene. About $6,000 was returned as informed by Capt. Phillip Taormina, a spokesman for the East Rutherford Police Department. The company isn't yet sure about how much money fell out of the truck and how much more is to be accounted for.