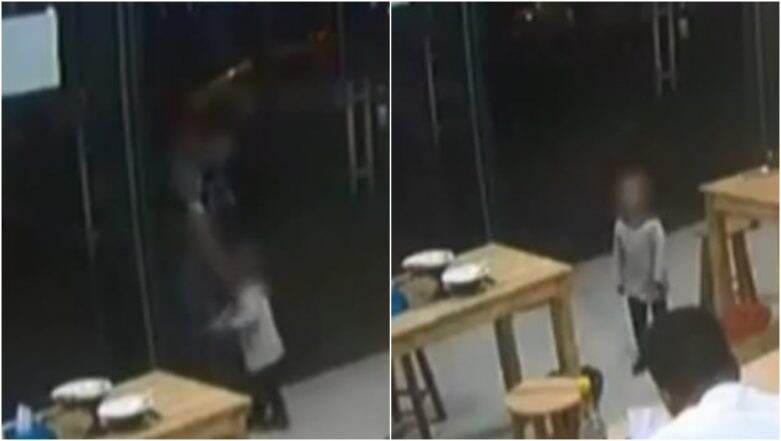 A father in China left his daughter in a restaurant as he did not have enough money to pay for the meal he had. A video of the incident which was caught on CCTV cameras has gone viral on social media platforms. The man decided to pawn his own two-year-old daughter as he was falling short of 1 yuan (Rs 10) of the food that costs 6 yuan (Rs 62). The video shows him walking out of the restaurant as the girl cries loudly and run towards him. According to Chinese media reports, he told the restaurant owner that he would redeem the child the next day. The incident in Foshan region of Guangdong in Southern China. Bihar Shocker: Mother Glues Son's Lips to Stop Him From Crying.
The footage released by Southern Television Guangdong shows the man pushing the girl back into the restaurant as she tries to go with him. Before leaving, he told the cashier, "I am going to leave her here as a pawn. I'll come back tomorrow with cash and get her." After the man left, the restaurant owner fed the child. He told the reporter, "We sat the girl down in the kitchen and gave her a bottle of soy milk." Texas Mother Sentenced 40 Years Prison for Letting Her Daughters Slowly Die in Car As She Partied.
Watch the video below:
As the restaurant owner couldn't find the man, they informed the police. The man later returned to the place and was shocked that his daughter was not there. The man then started shouting at the owner for informing the police. The man then went to the police who gave him a 'stern lecture' for his actions. Huang Zhenyu of the Shunde district police was quoted as saying, "The man insisted he wasn't abandoning his daughter and was just trying to get some cash. But it took him a long time to return to the restaurant because his electric scooter ran out of battery and he had to wait for it to charge."