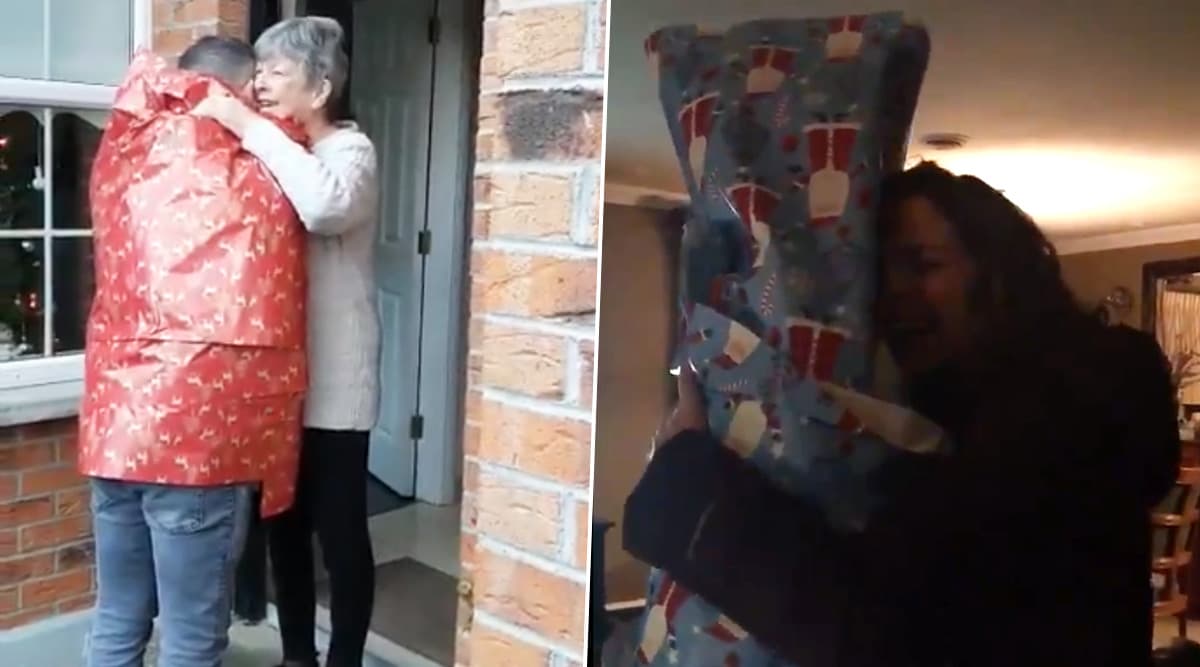 Everything is white, red, green, the pine trees are adorned and lit, because tis the season of Merry. The whole world is celebrating Christmas. Sweets and cocktails and everything delicious will be served to the guests tonight as we spend quality time on the holidays. But what about those who are living away from families? How their Christmas celebrations are going to be? Well, for a section of Twitter, they did not want to let the opportunity go. Managing time from work or studies, these people surprised their families for the holiday season. Watching at the below Christmas 2019 homecoming videos, you will not be able to control your happy tears. The clips surfacing on social media have already melted the hearts of netizens. From Feliz Navidad to Joyeus Noël, Wish Happy Holidays Greetings in Spanish, French and Other Languages. 
Christmas is all about family gatherings. It is the holiday season for a reason. But for most of us, due to career and many other significant reasons, we at times cannot take out time for the celebration. And the worst is, when we are don't get to spend time with our families. Festivals are the only opportunity for all of us to be together with just family and closed ones. Merry Christmas 2019 Wishes Trend on Social Media, Netizens Share Happy Christmas Messages, Xmas GIFs and Season's Greetings to Mark The Joyous Occasion. 
But if you are adamant, just like the Twitterati, you will surely travel miles to see the smile of your mother, father, sister, brother, wife, kids and everyone when they know you are at the door. In fact, some of the people, just wrapped themselves as Christmas gifts, allowing their moms to unwrap and shower hugs and kisses.
Watch Videos:
When your brother surprises your mum and comes home for Christmas ❤️ not a dry eye in the house ❤️ pic.twitter.com/EpJXG8bK0e

— Janine Goodison (@JanineGoodison) December 23, 2019
Surprise Christmas Gift!
If you're in need of some holiday cheer...my brother surprised my mom by coming home for Christmas.

He just started a job in Colorado and didn't think he could skip work. Yes, there are all the happy tears. #merrychrysler pic.twitter.com/yZGsZbMvUP

— Maddy Glab (@MadGlab) December 24, 2019
Those Happy Tears:
Best #Christmas #surprise ever! My daughter is home for Christmas pic.twitter.com/Ro4Rk8MIm7

— Ivonne Allen (@IvonneAllen4) December 24, 2019
Unwrap the Surprise!
My uncle Patrick surprised us all coming home from England for Christmas 🥰🥰 best present ever !! pic.twitter.com/kluJhAQH7i

— Nicole Ivory-rogan (@nicoleroganx) December 24, 2019
Merry Christmas!
surprised my brother at the airport with our cousin/his best friend Quentin coming home from the army for Christmas!!! pic.twitter.com/RUxKH5I0SC

— kendall greene (@kendallgreene14) December 24, 2019
Surprise!
My brother's been in Canada since Feb and my mam didn't think he was able to come home for Christmas. Surprise💜 pic.twitter.com/ncTr2RJXUx

— Vicky Mason Port (@VickyMasonPort) December 23, 2019
So Touching!
Lois was our very first neighbor, 9 years ago. She's 100 years old and has no living family. We've been pen pals for 8 years now. We surprised her with an early Xmas visit today. She is so special to us. ❤️ Do yourself a favor and go visit a nursing home. It's so humbling. 🎄 pic.twitter.com/we0sfTIiHI

— Cattie Hall (@MrsHallCISD) December 24, 2019
We hope you are spending your Christmas with people you love and care. The season is all about love and cheer, and it is always incomplete when you do not have your family around. If you are someone, who will be away from family on the holiday season, try to take a day off and fly home. The season comes only once in a year!