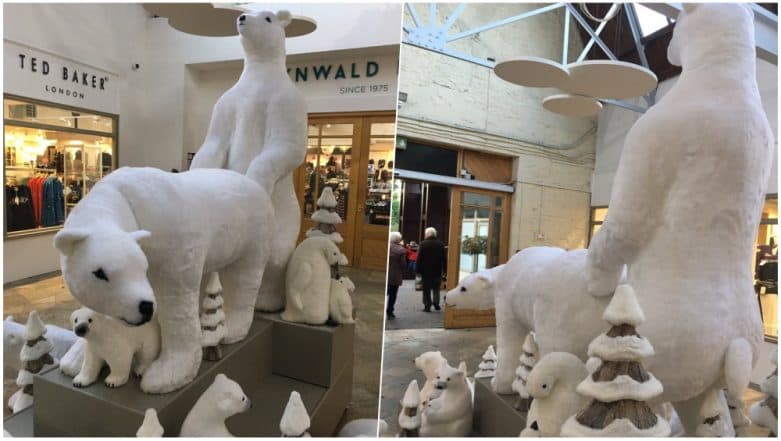 Its that time of the year again! Come December and the Christmas fever is seen taking over. It may take a few days in India but abroad, the oncoming of Christmas has already begun. After the Thanksgiving holidays, the Christmasy feels are seen everywhere and some of them have already begun. But a shopping mall, Tynwald Mills in UK left some people red-faced with their Christmas decorations for the year. They used Arctic animal Polar bear and its family to showcase the winter and Christmas feels but they messed up with the positioning. Placing two polar bears in a manner that appears to be a sexual position, some of the shoppers were stunned. And what better way to share it with others than on the social media? After a Twitter user put up the pictures online, they went viral. The mall has now apologised for the display.
The decorations show a polar bear family surrounded by small Christmas trees. But the two big polar bears appear to be engaged in a sexual activity, something not too hard to notice in a public place. The winter scene was quickly interpreted with the polar bears in a compromising position on social media platform Twitter. Want to Look HOT this X-Mas? Christmas Nipple Wreaths Are the Latest Addition in Bizarre Festive Accessories (See Pics) 
Check Pictures of X-Rated Christmas Decorations at a UK Mall
Went to Tynwald Mills today and was quite amused yet disturbed by their placement of their Xmas polar bears 😳🙈🤣 #merryxmas #ohmy #naughtybears #feelingthelove #frombehind #bearbehind @Laughology pic.twitter.com/V5vvTgGmSB

— Ruth Hogg (@MrsManxTiger) November 18, 2018
Well, Twitter users were laughing and had some funny comments to share on the pictures. Not to mention, it also garnered few more likes since then. Check some of the reactions on social media.
How about the Christmas tree butt-plug.

— Ian Colquhoun (@iancolquhoun) November 18, 2018
Poor child
That poor child pic.twitter.com/9zhKJsMygl

— Ryan John Kelly (@RyanJohnKelly1) November 18, 2018
Who is getting the Christmas present?
Looks like Mrs Bear is getting an early xmas present 😉

— Photo-Sniper (@PaulDArcy1) November 18, 2018
Apt!
its time to xxxmas!

— Hudson ≈ [J.G.C.] (@yohvdson) November 20, 2018
While no one seemed to be offended as such, but sure had a good laugh at it. Some people said it was a clever marketing strategy and it worked for the mall as they did get the desired publicity online. But the mall responded with an apology on their Facebook page.
Check The Apology Given by the Tynwald Mills Mall 
All's well that ends well, right? Their interactive display did get everyone interacting on social media at least. What do you think about this funny Christmas decoration?