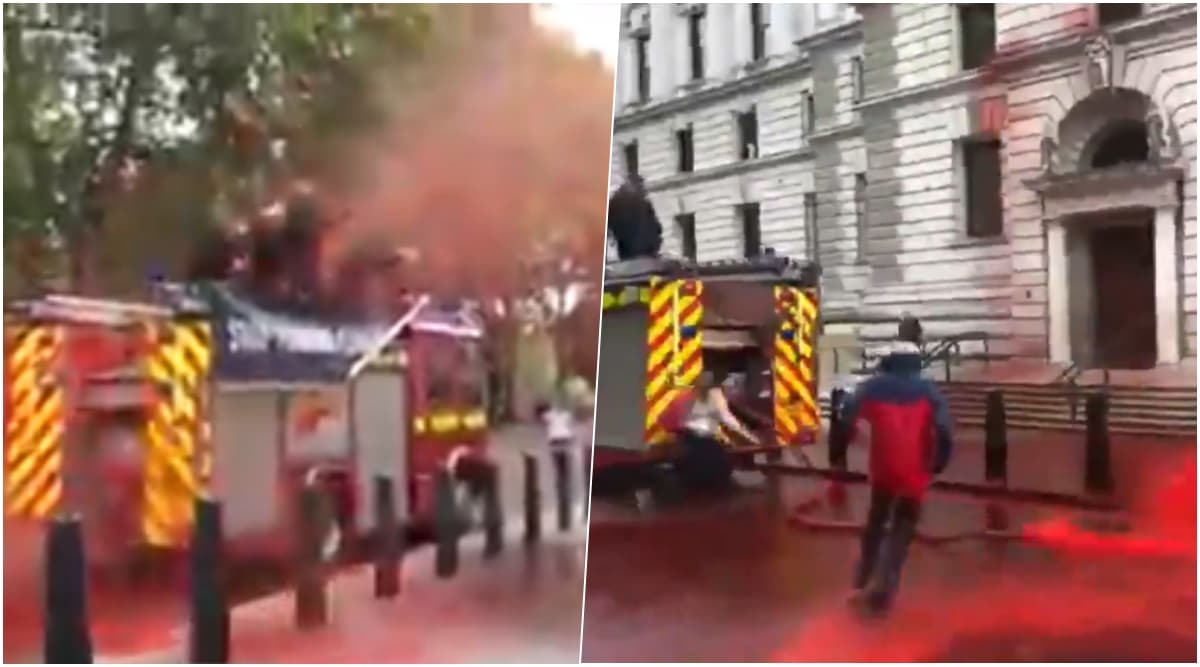 Climate activists of Extinction Rebellion group had a plan to spray fake blood on the British Treasury building as a way of campaigning for climate change. But their measure failed as they were unable to control the hose pipe to spray the fake blood. The protest in London was organised to talk about the UK government's stance on dealing with the global problem of climate change. Video of the heavy pressure pipe hose losing control and painting everything red has emerged on social media and is going viral. Climate Change Protesters Strip Naked in UK Parliament to Draw Attention on 'Ecological Crisis', Arrested As Pictures Go Viral.
Extinction Rebellion is a prominent socio-political movement aimed to compel government action on climate breakdown, biodiversity loss, and the risk of social and ecological collapse. The activists planned to spray fake blood on the finance ministry's building in London and some of the activists stood with a banner reading, "Stop funding climate death." But as soon as they unleashed the fake blood spray, they lost control due to the heavy pressure and the liquid spill all over. The video of the same was shared on Twitter and is going viral. Old Fake Photo Accusing Australian Global Climate Strike Protesters of Littering Hyde Park Goes Viral! Here's The Truth.
Check The Video Here:
Extinction Rebellion activists failed in a plan to spray HM Treasury with thousands of litres of fake blood this morning after their high-pressure hose pipe became too much to handle.

What is your response? pic.twitter.com/EpfqWefcKm

— talkRADIO (@talkRADIO) October 3, 2019
A lot of netizens were not impressed with the idea several of them commenting on the mess they left behind. Check some of the reactions on Twitter.
Who Will Clean-Up?
That will be more of the tax payers money spent on cleaning up the mess..

— Kate 🇬🇧 (@kaleidascope0) October 3, 2019
Massive Mess!
Still made a massive mess! Where did they fire appliance come from? Did it have the appropriate insurance. Was the driver a fireman and if so, where was the authority to use a public vehicle to cause criminal damage, a diesel guzzling one at that! Where were the police????

— allan bowley (@popkis) October 3, 2019
No idea of Physics?
It's a well known fact that these so-called activists, don't know much about the laws of physics

— John Huizing - tweets op persoonlijke titel (@john_huizing) October 3, 2019
Make Them Clean Up Too
Proper idiots. Now make them pay the clean up costs.

— REC (@rec777777) October 3, 2019
"The UK Treasury has blood on their hands," the group wrote in their Facebook post. About 1,800 litres of the water with red dye was mostly on the sidewalk of the street and very few on the actual building. The demonstrators were later led away by police officers. As per BBC report, three men and one woman were arrested for alleged criminal damage.