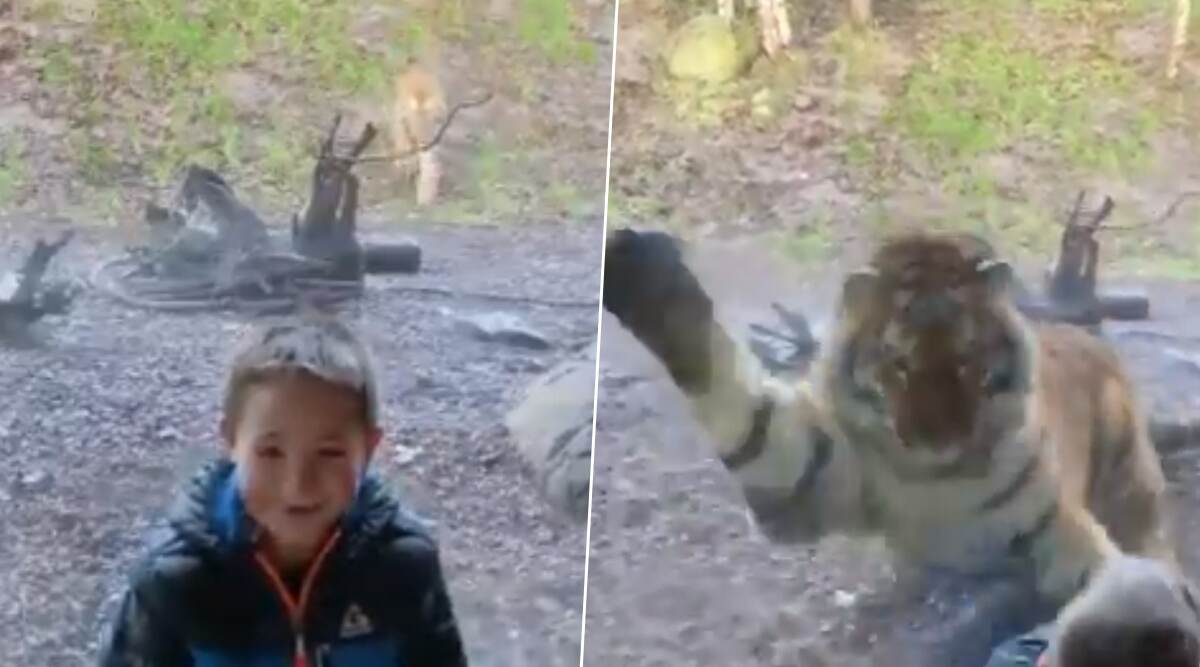 A child's visit to the Dublin zoo will remain in his memory of a lifetime as a tiger tried to pounce on him through the enclosure. The seven-year-old boy named Sean seemed quite assured that he was safe on the other side. The father of the child has managed to capture the moment when the tiger tried to attack his son and the video is quite scary. The video has been shared on social media and is now going viral. Heroic Pet Dog Saves His Owners From Two Tigers at Kanha Forest in Madhya Pradesh.
The boy named Sean had visited the zoo with his father and saw an opportunity to get a picture clicked with the tiger. In the video, it is apparent that he wanted the wild cat in the background, clearly unaware the tiger had a natural instinct to hunt at its prey! His father Rob shared the scary footage on Twitter and the video has got over a million views. Meanwhile, people also commented on how it is a sad state for the wild animals to be kept in an enclosure. Duck Survives a Tiger Attack! This Viral Video Teaches Us How to Duck Problems Skilfully.
Watch The Viral Video of Tiger Attacking at a Child in Zoo:
My son was on the menu in Dublin Zoo today #raar pic.twitter.com/stw2dHe93g

— RobC (@r0bc) December 22, 2019
That's quite terrifying and we cannot even imagine what would happen if the glass had broken in case.
Terrifying Yet Amazing
Terrifying and amazing all in one!

— Ruthy McDonagh (@RuthyMcDonagh) December 22, 2019
Let Them Free!
I'm not usually an 'Animal rights' type but this vid made me feel uneasy. Goading a captive Tiger for our amusement isn't a good look.

— Shadwell Jones (@ShadwellJones) December 23, 2019
Pants Down, Scary!
— gemma (@gemmacaddell86) December 22, 2019
A Memory for the boy
Class memory for him; but I can't help feel sorry for the tiger, the urge to just do what nature intended and he doesn't get the chance......

— Fryburgler (@Lorien78) December 22, 2019
The video may seem amusing to some but it does point out the apathy in the situation, wherein wild cats are closed in for other's amusement. It was the tiger's natural behaviour to hunt for prey.